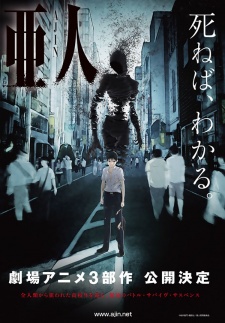 The title and broadcast date for the second movie in the
Ajin
film trilogy were announced today during the premiere of
Ajin Part 1: Shoudou
. The second movie will be titled
Ajin Part 2: Shoutotsu
(Collision)
and is expected to premiere in May 2016. It was also announced that
Jun Fukuyama
(
Chuunibyou demo Koi ga Shitai!
) will play the role as
Kou Nakano
, while the cast from the previous movie will reprise their roles.
In addition to the film trilogy,
Ajin
is also receiving a 13-episode
TV anime
adaptation in Winter 2016 and an
OVA
by studio
Polygon Pictures
. Both titles will be based on the manga by
Gamon Sakurai
.
Earlier this week, studio Polygon Pictures revealed in an article published by Mainichi Shimbun that the production of the TV anime is near completion.
Source:
Ota☆Suke

RSS Feed