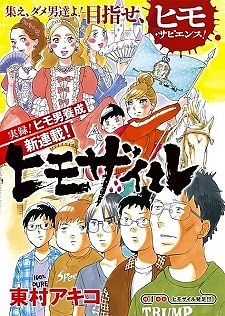 Editors of Kodansha's
Morning Two
magazine announced on Wednesday that they have suspended the serialization of
Akiko Higashimura
's manga
Himo Zairu
due to online criticism surrounding its premise.
Kodansha had published two chapters of the manga in the October and November issues of the magazine before suspending it in the December issue at Higashimura's request. The publisher had urged her to continue the series despite the criticism.
According to the Asahi Shimbun,
Himo Zairu
depicts men in training who are searching for girlfriends with good jobs. These men have big dreams but little money and few skills, so they try to make themselves more attractive to working women by becoming adept at things such as housework.
Higashimura created the series with her male assistant based on actual experiences of these men, but critics accused her of looking down on her assistant and models. Higashimura intends to continue the series and will re-examine the plot until she feels it is ready for publication once again.
Akiko Higashimura was
awarded
the Manga Taisho in March 2015 for
Kakukaku Shikajika
. She was previously nominated four times for the award, including for
Kuragehime
, which was adapted into a
TV anime
in 2010.
Source:
Asahi Shimbun Asia & Japan Watch

RSS Feed