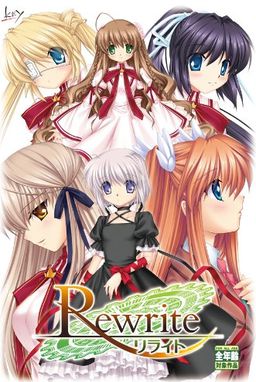 It was announced during the final episode of
Charlotte
, that Key's visual novel
Rewrite
will be receiving a TV anime adaptation. More information will be announced at a later time.
Staff
Director, Series Composition:
Motoki Tanaka
(
Grisaia no Kajitsu
)
Composition & Script Assistance:
Romeo Tanaka
(
Jinrui wa Suitai Shimashita
light novel),
Kai
(
Shinigami no Kyou
light novel)
Original Character Design:
Itaru Hinoue
(
Kanon
)
Character Design:
Masayuki Nonaka
(
Hello!! Kiniro Mosaic
)
Studio:
8bit
Synopsis
Rewrite
is set in the fictional city Kazamatsuri where tree-planting and afforestation have caused the city to become overgrown with trees and flowers in much the same way that other cities are filled by buildings. However, while most of the city appears to be rural, there are many traditional city elements as well. While set in a modern setting, the city also gives off a strange sense of nostalgia.
Tennouji Kotarou lives here. He's a high school student who has the ability to rewrite his own body; he can become stronger and faster at any time he chooses. He investigates supernatural mysteries with five girls from his school. (Source: VNDB)
Official site:
http://www.rewrite-anime.tv/
PV
Source:
Yaraon
Rewrite
on MAL

RSS Feed