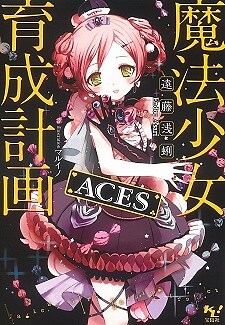 The wraparound jacket of the light novel
Mahou Shoujo Ikusei Keikaku ACES
, which will go on sale on September 10, has announced that an anime adaptation of the series has been confirmed.
ACES
is the eighth volume in the
Mahou Shoujo Ikusei Keikaku
series, written by
Asari Endou
and illustrated by
Maruino
. The light novels have been published since 2012, and a
manga adaptation
began serialization in the November 2014 issue of
Comp Ace
. A drama CD was released with a fan guide book in February.
Synopsis
The highly popular social network game "Magical Girl Raising Project" is a miraculous game that produces real Magical Girls with a chance of 1 in 10000 for each person. Girls who are lucky enough to gain the power of magic spend fulfilling days. But one day, the administration arbitrarily announces that "There are too many magical girls so they will be halved." The curtain will now be raised on the relentless and merciless survival game between 16 magical girls. (Source: Baka-Tsuki)
Drama CD PV
Source:
Yaraon
Mahou Shoujo Ikusei Keikaku
on MAL

RSS Feed