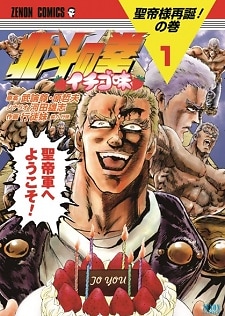 The fourth volume of spin-off gag manga
Hokuto no Ken: Ichigo-Aji
revealed that an anime adaptation has been green-lit. According to the wraparound jacket band found on the volume, the series also revealed that there are a million volumes currently in print. The television series is scheduled to premiere in Fall 2015.
The series is written by
Yushi Kawata
with illustrations by
Imoto Yukito
. It has been published online in
Web Comic Zenyon
since March 2013.
Synopsis
Serving as a spinoff gag manga of the original
Hokuto no Ken
series, the story is a parody of Fist of the North Star by Buronson and Tetsuo Hara. It consists of page-long gags centered mainly around Souther, both within his final battle with Kenshiro and inserting himself into other parts of the series where he doesn't belong. One recurring gag involves the kid with a turban repeatedly stabbing Souther in the leg every time he climbs the pyramid's staircase, and another involves Rei suddenly transforming into Souther in his iconic moments. (Source: Hokuto Wikia)
Source:
Scan via ANN
Hokuto no Ken: Ichigo Aji
on MAL

RSS Feed