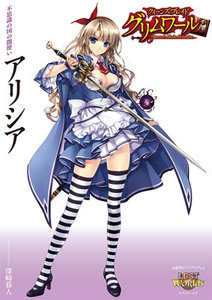 A scan of the latest issue of Hobby Japan magazine, released on April 25, announced that
Queen's Blade Grimoire
will be adapted into an OVA. Comprised of two disc volumes, it will be bundled with the release of the next visual combat book of the
Queen's Blade
series in Fall 2015. The project is made to commemorate the 10th anniversary of
Queen's Blade
. The staff members from the first season,
Queen's Blade: Rurou no Senshi
, were also announced to return.
Queen's Blade
is a series of visual combat books first published in 2005 by
Hobby Japan
.
Queen's Blade Rebellion
succeeded the original title and then was followed by
Queen's Blade Grimoire
. The series received
three TV anime adaptations
,
four manga adaptations
, three light novels, and a video game adaptation.
Source:
Scan of Hobby Japan Magazine
News submitted by
flash0101
Queen's Blade: Grimoire
on MAL

RSS Feed