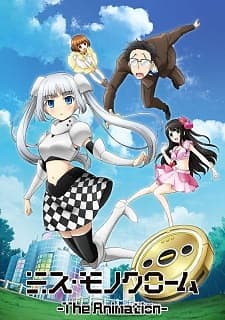 The Ultra Super Pictures Special Stage event announced at AnimeJapan 2015 that the short TV anime
Miss Monochrome
will receive a second season.
This sequel will be the third short anime to run within the
previously announced
30-minute Ultra Super Anime Time block, along with
Wakaba*Girl
and
Wooser no Sono Higurashi: Mugen-hen
. The block will begin airing on July 3.
Miss Monochrome
is an original anime series based on the character designed by
Yui Horie
. In March 2012, the seiyuu used the Miss Monochrome character as a 3D virtual singer for one of her concerts. The character then went on to appear in a range of merchandise, along with the SNS game
Girlfriend (Kari)
and its subsequent
TV anime adaptation
. She also made a cameo appearance in
Shounen Hollywood: Holly Stage for 49
.
The
first season
of
Miss Monochrome
aired in Fall 2013. It completed at 13 episodes, with each episode approximately 4 minutes long.
Source:
Nekonotemo
Previous related news:
4-koma Manga 'Wakaba*Girl' to Receive Short TV Anime Adaptation
(also updated today)
Miss Monochrome: The Animation 2nd Season
on MAL

RSS Feed