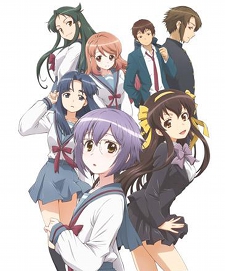 A scan of the front cover of a flyer distributed at AnimeJapan 2015 revealed that the upcoming TV anime series
Nagato Yuki-chan no Shoushitsu
will be getting an OVA. The flyer also mentioned that the anime series, which will start on April 4, will run for a total of 16 episodes.
The series is adapted from
Puyo
's official
spin-off manga
of
Nagaru Tanigawa
's light novel series
Suzumiya Haruhi no Yuuutsu
. Serialized in Kadokawa Shoten's
Young Ace
magazine starting in 2009, the manga series has seven volumes in print.
The story is set in the alternative universe depicted in the anime movie
Suzumiya Haruhi no Shoushitsu
, where the SOS brigade was never formed. In this world, Yuki Nagato, who began developing her feelings for her clubmate Kyon, is a quiet and shy girl rather than an emotionless artificial human.
Source:
Scan via ANN
Nagato Yuki-chan no Shoushitsu OVA
on MAL

RSS Feed