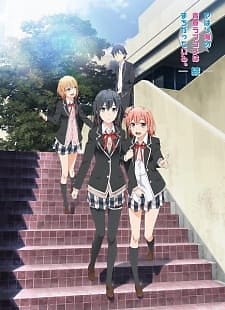 According to publishing company Shougakukan, it was revealed that the
second season of Yahari Ore no Seishun Love Comedy wa Machigatteiru.
will debut Spring 2015.
Some staff members have changed for the sequel, including the studio. The second season will be titled
Yahari Ore no Seishun Love Come wa Machigatteiru. Zoku
.
Director:
Kei Oikawa
Character Design:
Yuichi Tanaka
Studio:
Feel
Music:
MONACA
Sound Director:
Satoshi Motoyama
Series Composition:
Shoutarou Suga
The cast members from the
first season
will be reprising their roles.
Source:
Shougakukan
News submitted by
Stark700
Previous related news:
'Yahari Ore no Seishun Love Comedy wa Machigatteiru.' 2nd Season Announced

RSS Feed