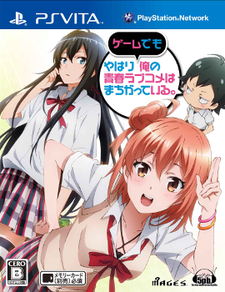 Staff who are in charge of producing
Yahari Game demo Ore no Seishun Love Comedy wa Machigatteiru. Zoku
, a PS Vita game for
Yahari Ore no Seishun Love Comedy wa Machigatteiru. Zoku
, have announced that the limited edition version of the game will include a new OVA. Titled
Kitto, Onnanoko wa Osatou to Spice to Suteki na Nanika de Dekiteiru.
, the episode will adapt a chapter from volume 10.5 of the
light novel
, which revolves around Iroha Isshiki. The game is set to go on sale on July 28.
Yahari Ore no Seishun Love Comedy wa Machigatteiru.
is written by
Wataru Watari
and drawn by
Ponkan 8
. The light novel received its first anime adaptation in Spring 2013 by
Brain's Base
. The adaptation got a sequel in Spring 2015 by studio
feel
. The franchise's first PS Vita game, titled
Yahari Ore no Seishun Love Come wa Machigatteiru.
, also bundled an OVA and was released in Summer 2013.
Source:
Ota☆Suke
Yahari Ore no Seishun Love Comedy wa Machigatteiru. Zoku OVA
on MAL

RSS Feed