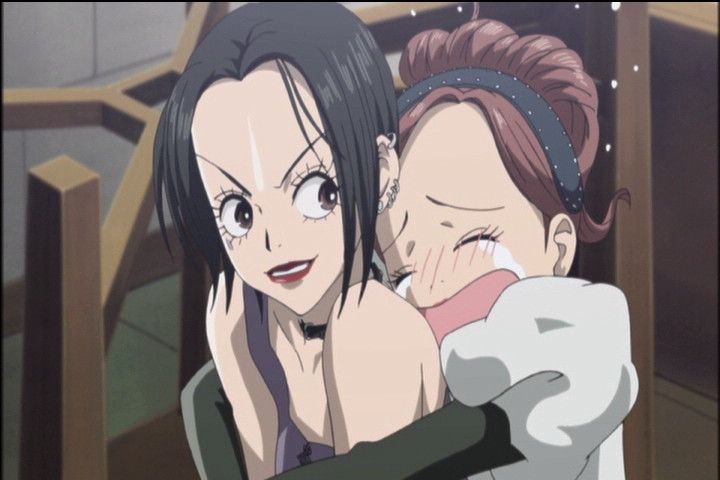 There is something bitter-sweet and deep about Nana that makes it simply unforgettable. The anime explores many themes such as music, fame, friendship, love, and intimacy, which makes it easy for fans to relate their experiences to those of the characters. There are also many kinds of love such as the deep feelings between not only lovers, but also family and friends.


---
Family Love
---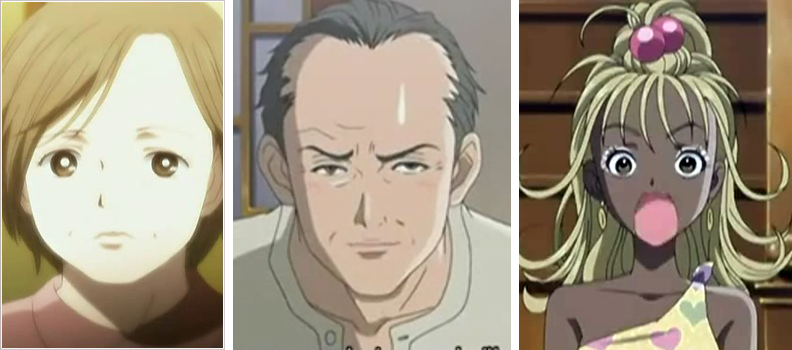 Family is portrayed as a very important aspect of one's life, but also as a burden that people may carry throughout their lives. It can be said that family relationships are mostly depicted as tragic in this anime. Nana Osaki was abandoned by her irresponsible mother when she was a child so she was raised by her strict grandmother who was mostly repressing her instead of helping her. Her lover Ren was abandoned as well, except that he does not even know who his parents are because he was abandoned as an infant in front of a warehouse. Throughout the series, both of them carry traumas and scars due to their not-so-happy and lonely childhoods. Both of them are trying to be recognized as successful musicians which can be related to their deepest wish of being part of something big and not being abandoned again.
On the other hand, Hachi (Nana Komatsu) is a middle child of three sisters and she grew up in a noisy, large and happy household. Her mother, father and younger sister are represented in the pictures above. There is one scene in which Hachi brings Nana to her hometown and home where she gets overwhelmed by the happiness and the feeling of belonging somewhere. She describes Hachi's mother as "very cool" even though Hachi sees her as an ordinary middle-aged woman. This is a proof of how different their upbringings are and how that may have influenced the way they perceive life. Hachi has always been spoiled and dependent while Nana has always had to work hard in order to achieve anything. Despite all of this, they still manage to be good friends to each other.
---
Love among Friends
---

Friendship is another very important theme in Nana and there are many characters who interact and can be considered to be close.
Nana Osaki and Hachi are the protagonists and their friendship is in the spotlight. They met for the first time on a train bound for Tokyo and then again in an apartment as roommates. Despite their different upbringings, dreams, aspirations and personalities, they managed to become very close and to understand each other's pain and dreams. That is probably one of the deepest and most touching messages of this anime - that true friendship is not about someone's looks or social class but more about mutual understanding and trying to keep the bond strong no matter what.
Nana is also very close to Yasu, who is a drummer of their punk band Blast. They have been friends since the moment Nana joined their band as a vocalist and he has been the most reliable person in her life since then. He is always ready to come to her rescue or simply talk to her about any problem she may have. Even though he openly declares his love for her, he also states that he would not pursue his feelings because he is aware of her love for Ren.
Junko Saotome has been Hachi's friend since their school days and has always been the sensible and mature one. She would always push Hachi to be more responsible and independent. Their true friendship can be seen in the fact that Junko is always honest with her and she is not afraid to speak her mind or even scold Hachi if she thinks that is what she needs.
There are many other characters who become close throughout the series, such as Hachi and Shin, Naoki and Nana, Yasu and Ren, and on and on.


---
Love Relationships
---

Nana and Ren are the most prominent couple in the anime. Nana met Ren for the first time at a gig in Meguro, their home town. He invited her to join his band and that is when they started going out and moved in together. However, everything changed when Ren was offered a position as a guitarist in a popular band, Trapnest, in Tokyo. She refused to go with him because of her pride. Even though they still loved each other very much, they knew that maintaining a long distance relationship was pointless, so they broke up. They meet a couple of years later, thanks to Hachi, who buys the tickets for a Trapnest live show and goes with Nana to watch their performance. Nana and Ren get reunited that night and continue their romance.
Hachi's first serious boyfriend was Shoji who cheated on her soon after coming to Tokyo, so they broke up. Later on, she fell in love with Nobu, BLAST's guitarist, but they also broke up after she found out that she was pregnant with Takumi's child. Hachi is someone who falls in love easily at first sight, and there have been many other supporting characters that she believed she was in love with. However, although it appears that she becomes infatuated easily, those feelings cannot be called true love.
There are other characters who are considered to be nice couples like Junko and Kyousuke, Shin and Reira, Reira and Takumi, Shoji and Sachiko and many more. All of them are involved in some way and every supporting character has a role of their own in the series.
---
Nana is a true emotional roller coaster with great music and realistic characters. It shows us the true meaning behind love and friendship. Make sure to check it out!