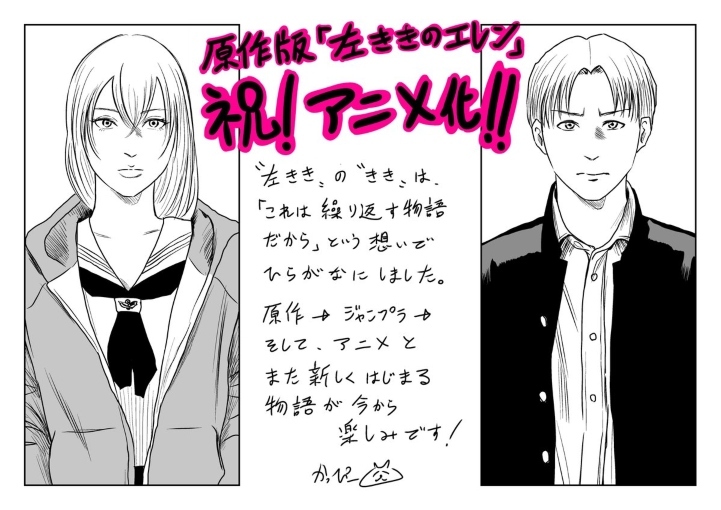 The official Twitter of manga creator
Kappi
announced
an anime adaptation of his
Hidarikiki no Eren
(
Eren the Southpaw
) web manga on Friday.
Kappi began drawing the ensemble drama on the
cakes
web manga service in March 2016 and ended it in 63 chapters in September 2017. Kappi launched a remake version with illustrations by
nifuni
in
Shounen Jump+
in October 2017 and ended on October 8. Shueisha shipped the 23rd and 24th volumes on Friday, the latter being the final.
Hidarikiki no Eren
was adapted into a 10-episode live-action television drama in Japan in October 2019.
Synopsis
Asakura Koichi works as a designer at an advertising agency. Even though he works very hard, he does not receive recognition at his job. He is frustrated by his circumstances and he decides to visit a place from his school days, involving Yamagishi Eren.
Meanwhile, Yamagishi Eren has the nickname "Hidarikiki" ("The Southpaw") and is a painter in New York. She is gifted as a painter, but due to her genius-like talent, she suffers. (Source: MyDramaList, edited)
Manga official page:
https://shonenjumpplus.com/episode/13932016480029111789
Source:
Comic Natalie
Hidarikiki no Eren
on MAL

RSS Feed