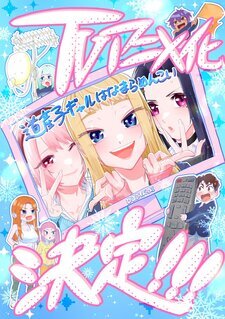 The official Twitter account of mangaka
Kai Ikada
announced
a television anime adaptation of their
Dosanko Gal wa Namara Menkoi
(
Hokkaido Gals Are Super Adorable!
) manga on Wednesday, revealing the main cast and a celebratory visual (pictured). The anime is set to premiere in 2023.
Ayane Sakura
(
5-toubun no Hanayome
) will be starring as Minami Fuyuki.
Kai began serializing the romantic comedy manga on Shueisha's
Shounen Jump+
app and website in September 2019. The eighth volume shipped on June 3, with the ninth volume scheduled to be released on November 4. Shueisha began publishing the manga in English on their Manga Plus app and website in September 2020.
Synopsis
Tsubasa Natsukawa has just moved from Tokyo to Hokkaido, in the middle of winter. Not quite appreciating how far apart towns are in the country, he gets off the taxi at the next town over from his destination so he can see the sights around his home. But he is shocked when he learns the "next town" is a 3 hour walk away. But he also meets a cute Dosanko (born and raised in Hokkaido) gyaru named Minami Fuyuki who is braving negative 8 degree weather in the standard gyaru outfit of short skirts and bare legs! (Source: MU)
Official manga page:
https://shonenjumpplus.com/episode/10834108156684177150
Source:
Comic Natalie
Dosanko Gal wa Namara Menkoi
on MAL

RSS Feed