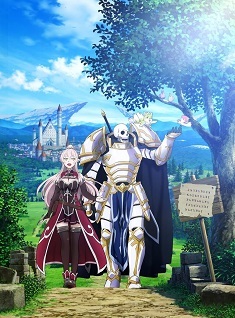 The Overlap Bunko 8th Anniversary event announced a television anime adaptation of
Enki Hakari
's
Gaikotsu Kishi-sama, Tadaima Isekai e Odekakechuu
(
Skeleton Knight in Another World
) light novel on Saturday. The publisher simultaneously launched an official website, revealing the main cast, staff, a key visual (pictured), and promotional video.
Synopsis
One day, a gamer played video games until he fell asleep...and when he woke up, he found himself in the game world—as a skeleton! Equipped with the powerful weapons and armor of his avatar but stuck with its frightening skeletal appearance, Arc has to find a place for himself in this new, fantastical land. All his hopes for a quiet life are dashed when he crosses paths with a beautiful elven warrior, setting him on a journey full of conflict and adventure. (Source: Seven Seas Entertainment)
Cast
Arc Raratoia:
Tomoaki Maeno
(
Log Horizon
)
Ariane Glenys Raratoia:
Ai Fairouz
(
Dumbbell Nan Kilo Moteru?
)
Ponta:
Nene Hieda
(
Senyoku no Sigrdrifa
)
Staff
Director:
Katsumi Ono
(
Senki Zesshou Symphogear XV
,
Girly Air Force
)
Series Composition:
Takeshi Kikuchi
(
Night Wizard
original creator,
Ragnastrike Angels
script)
Character Design:
Tooru Imanishi
(
Shuumatsu Nani Shitemasu ka? Isogashii Desu ka? Sukutte Moratte Ii Desu ka?
,
Super Cub
)
Music:
Eba
(
Wizard Barristers: Benmashi Cecil
opening theme composition),
Tsubasa Itou
(
Princess Connect! Re:Dive
)
Studio:
Studio Kai
,
Hornets
Hakari
began penning
the action fantasy novel on the Shousetsuka ni Narou website in October 2014. Overlap began publishing the series featuring illustrations by
KeG
the following June and published the ninth volume in March 2019. The light novel has a cumulative 1.5 million of its copies in circulation.
Akira Sawano
began drawing a
manga adaptation
on Overlap's
Comic Gardo
web manga portal in February 2017. The seventh volume shipped on August 25 last year, with the eighth volume going on sale on April 25.
Seven Seas Entertainment licensed both the light novel and manga in September 2018 and published the eighth novel volume on
February 23
and the fifth manga volume
last December
.
PV
Official site:
https://skeleton-knight.com/
Official Twitter: @
gaikotsukishi
Novel special site:
https://over-lap.co.jp/skeleton-knight/
Source:
Dengeki Online
Gaikotsu Kishi-sama, Tadaima Isekai e Odekakechuu
on MAL

RSS Feed