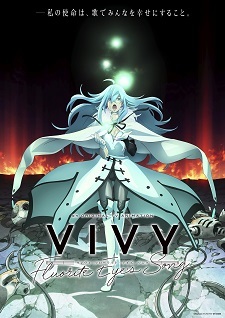 The official website of the
Vivy: Fluorite Eye's Song
original anime series unveiled main cast, production staff, and the first key visual (pictured) on Saturday. Production company
Aniplex
also posted the first promotional video.
The 13-episode television anime by
Wit Studio
will begin airing Tokyo MX, Tochigi TV, Gunma TV, and BS 11 on April 3 at 11:30 p.m., followed by Hokkaido Broadcasting, RKB Mainichi Broadcasting, Nagoya Broadcasting Network (Me-Tele), and Mainichi Broadcasting System (MBS).
Voice actress
Atsumi Tanezaki
(
Mahoutsukai no Yome
) is starring as the titular character Vivy, the first autonomous humanoid A.I in history whose mission is to make everyone happy with songs as a diva.
Jun Fukuyama
(
Ansatsu Kyoushitsu
) is voicing Matsumoto, an A.I that comes to Vivy from 100 years into the future with the mission to prevent a war between A.I and humanity, and partners with her to destroy A.I in process.
Synopsis
Nierland—an A.I complex theme park where dreams, hopes, and science intermingle. Created as the first-ever autonomous humanoid A.I, Vivy acts as an A.I cast for the establishment. To fulfill her mission of making everyone happy through songs, she continues to take the stage and perform with all her heart. However, the theme park was still lacking in popularity.
One day, an A.I named Matsumoto appears before Vivy and explains that he has travelled from 100 years into the future, with the mission to correct history with Vivy and prevent the war between A.I and humanity that is set to take place 100 years later.
What sort of future will the encounter of two A.I with different missions redraw? This is the story of A.I destroying A.I. A.I diva Vivy's 100-year journey begins.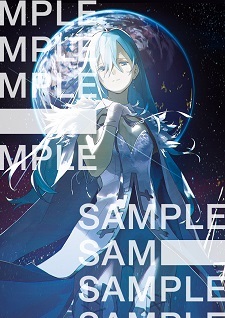 Staff
Director:
Shinpei Ezaki
(
Guilty Crown: Lost Christmas
,
Hanebado!
)
Assistant Director: Yuusuke Kubo (
Re:Zero kara Hajimeru Isekai Seikatsu - Hyouketsu no Kizuna
,
JoJo no Kimyou na Bouken Part 5: Ougon no Kaze
episode director)
Original Character Design:
loundraw
(
Flat Studio
) (
Tsuki ga Kirei
,
Kimi no Suizou wo Tabetai
)
Character Design:
Yuuichi Takahashi
(
Hoshiai no Sora
,
Tsuritama
)
Sub-character Design: Miki Toshiaki (
Granblue Fantasy The Animation
animation director)
Mechanical Design:
Takuma Ebisu
(
Guilty Crown
,
Robotics;Notes
)
Chief Animation Director: Yuuichi Takahashi, Takuma Ebisu
Art Director:
Yuusuke Takeda
(
Bamboo
) (
Vinland Saga
,
Great Pretender
)
Art Setting:
Kazushige Kanehira
(
Kabukichou Sherlock
,
Release the Spyce
)
Color Design:
Kunio Tsujita
(
Sarazanmai
,
Doukyonin wa Hiza, Tokidoki, Atama no Ue.
)
3D Director:
Hiromasa Horie
(
Love Rollercoaster
)
Director of Photography:
Keisuke Nozawa
(
Graphinica
) (
Plunderer
,
Date A Bullet: Dead or Bullet
)
Editing:
Akari Saitou
(
Mishima Editing Room
) (
Eizouken ni wa Te wo Dasu na!
,
Saenai Heroine no Sodatekata
)
Sound Director:
Jin Aketagawa
(
Re:Creators
,
Shigatsu wa Kimi no Uso
)
Music:
Satoru Kousaki
(
MONACA
) (
Beastars
,
Fate/Extra: Last Encore
)
Tappei Nagatsuki
, the original creator of the
Re:Zero kara Hajimeru Isekai Seikatsu
franchise, and scriptwriter
Eiji Umehara
(
Re:Zero kara Hajimeru Isekai Seikatsu
,
ChäoS;Child
) are handling the series composition and script. Vivy Score is credited for the original story. YouTube cover singer
Kairi Yagi
is performing the opening theme "Sing My Pleasure" as the titular character Vivy.
Mag Garden will publish a novel titled
Vivy prototype
by Nagatsuki and Umehara on April 30, featuring illustrations by loundraw (sample pictured right).
PV
Source:
PR Times

RSS Feed