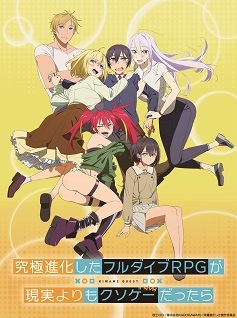 Kadokawa announced a television anime adaptation of
Light Tuchihi
's
Kyuukyoku Shinka shita Full Dive RPG ga Genjitsu yori mo Kusoge Dattara
(
What If the Ultimately Evolved Full Dive RPG was a Crappier Game than Reality
) light novel on Friday. The anime series is scheduled for an April 2021 premiere.
Staff
Director:
Kazuya Miura
(
Uzaki-chan wa Asobitai!
,
Hataage! Kemono Michi
)
Series Composition, Script:
Kenta Ihara
(
Shinchou Yuusha: Kono Yuusha ga Ore Tueee Kuse ni Shinchou Sugiru
,
Shachou, Battle no Jikan Desu!
)
Character Design: Yuuta Kevin Kenmotsu (
Sword Art Online: Alicization
animation director)
Studio:
ENGI
Cast
Hiro Yuuki:
Daiki Yamashita
(
Nakanohito Genome [Jikkyouchuu]
)
Reona Kisaragi:
Ayana Taketatsu
(
Hangyakusei Million Arthur
)
Alicia:
Ai Fairouz
(
Dumbbell Nan Kilo Moteru?
)
Mizarisa:
Shiori Izawa
(
Gakusen Toshi Asterisk
)
Kaede Yuuki:
Aoi Koga
(
Kaguya-sama wa Kokurasetai: Tensai-tachi no Renai Zunousen
)
Martin:
Haruki Ishiya
(
Akiba's Trip The Animation
)
Synopsis
In an unexpected turn of events, dull high school student Hiro Yuuki obtains the full dive role-playing game
Kiwame Quest
. Created by the best of technology, the game claims to take "reality to its extremes," from stunning graphics, NPCs' behavior, to the scent of vegetation, and even the sensation of wind brushing against the skin—everything was the result of an ultimate workmanship.
Except, the game is a little too realistic and messy to clear.
Kiwame Quest
features over ten quadrillion flags and reflects the players' real-life physical abilities in the game. Being hit in the game also hurts in real life and slash wounds take days to heal.
The only reward here is the sense of accomplishment. Conquer the most stressful game in history that can't be played casually!
Tuchihi launched the light novel under Kadokawa's MF Bunko J imprint on August 25, featuring illustrations by
Youta
. The second volume is planned for a December 25 release.
Official site:
https://fulldive-rpg.com/
Official Twitter: @
fulldive_anime
Novel special site:
https://mfbunkoj.jp/special-contents/fulldiverpg/
Source:
Repotama!
Kyuukyoku Shinka Shita Full Dive RPG ga Genjitsu yori mo Kusoge Dattara
on MAL

RSS Feed