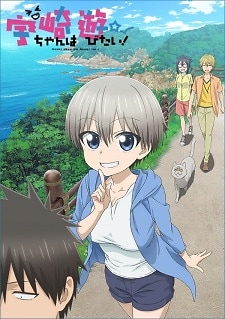 Uzaki-chan wa Asobitai!
At the start of her freshman year in college, Hana Uzaki reunites with Shinichi Sakurai, an upperclassman who was in the same club as her during her high school days. However, much to her surprise, the once active senior has ended up becoming a "lonesome" student, preferring to spend his free time in quiet peace. Uzaki does whatever she can to keep Sakurai from being "alone," from convincing him to go to the movies to going to his part-time workplace. While Sakurai finds her irritating and tiresome, he still goes along with Uzaki's hijinks and shenanigans, even if he knows that her perky personality will only lead the two of them into various comical situations. Even so, as the days pass by, their relationship only gets better, to the point where people around them misinterpret them to be a couple. At any rate, whenever Uzaki wants to hang out with her upperclassman, fun and adorable wackiness is sure to follow! [Written by MAL Rewrite]
Licensor:
Funimation
TV -
Jul 10, 2020, 21:30 (JST)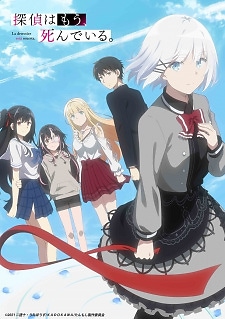 Tantei wa Mou, Shindeiru.
Kimihiko Kimizuka has found himself inadvertently entangled in various crimes more times than he can remember, referring to himself as a magnet for trouble. One day, as if it was nothing out of the ordinary, a group of unknown men kidnaps him, forcing him to board a flight—where he also encounters a hijacking. Amid the resulting chaos, however, Kimizuka meets a stunning silver-haired beauty, going by the codename Siesta, who then saves the day. Claiming to be a legendary detective, Siesta enlists Kimizuka to be her sidekick. Though Kimizuka refuses at first, with Siesta's insistence, he eventually joins her—marking the start of a grand adventure spanning the entire world, preventing multiple threats that could spell doom for humanity along the way. Unfortunately, after three years of their unpredictable yet enjoyable time together, Siesta abruptly passes away. Distraught, Kimizuka tries to leave all memories of her behind, but as he begins to meet more people, it seems that Siesta's influence will never truly die. [Written by MAL Rewrite]
Licensor:
Funimation
TV -
Jul 4, 2021, 21:30 (JST)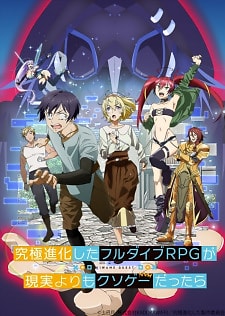 Kyuukyoku Shinka shita Full Dive RPG ga Genjitsu yori mo Kusoge Dattara
Ten years ago, at the peak of the VRMMO development industry, a game titled "Kiwame Quest" entered the scene with potential like no other. Boasting a colossal total of 10 sexdecillion branches of possible story scenarios, this game pursued ultimate realism, ranging from humanlike NPCs to the perfect replication of all senses and physical abilities. But it soon became apparent that the game was too realistic, and the popularity of VRMMOs in general gradually began to plunge. At present, due to an accident a few years prior, the high school student Hiroshi Yuuki now immerses himself in full-dive RPGs as a form of escapism. After failing to acquire the latest version of his favorite game, Hiroshi stumbles upon a game shop and meets its beautiful clerk Reona Kisaragi who convinces him to buy a copy of Kiwame Quest so that they can play together. The first time Hiroshi plays the game, he marvels at the realism it offers. However, his astonishment is short-lived as he sets off a series of misfortunes, quickly realizing that the game is even worse than his already stressful life. Nevertheless, Hiroshi still finds himself logging on again despite his growing contempt for the game. With no do-overs in his current disadvantageous situation, Hiroshi only has one goal—clearing the game! [Written by MAL Rewrite]
Theme:
Game
Licensor:
Funimation
TV -
Apr 7, 2021, 22:30 (JST)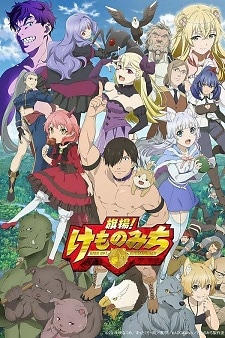 Hataage! Kemono Michi
Professional wrestler Genzou Shibata sports the body of a mountain, but beneath his hulking appearance is a man with an extreme affection for animals. Facing off his opponents in the ring as the legendary "Animal Mask," Genzou wins the hearts of crowds everywhere with his iconic tiger persona. During the bout for the title of World Champion against his greatest rival, the Macadamian Ogre, Genzou is suddenly summoned to a fantasy world by a princess. With her kingdom being threatened by a monster infestation, she pleads the wrestler for assistance—to which he answers by knocking her out with a German suplex! Escaping the castle and finding himself stranded in a mysterious land, Genzou decides to begin his career as a beast hunter to capture and befriend creatures far and wide. Joined by the wolf-girl Shigure, the dragon-girl Hanako, and the vampire Carmilla Vanstein, the professional wrestler pursues all kinds of dangerous requests for the sake of fulfilling his dream as a pet shop owner. [Written by MAL Rewrite]
Demographic:
Shounen
Licensor:
Funimation
TV -
Oct 2, 2019, 22:00 (JST)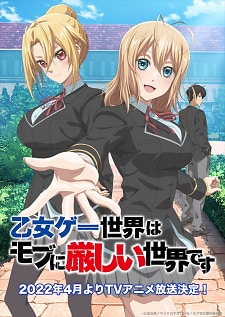 Otome Game Sekai wa Mob ni Kibishii Sekai desu
Office worker Leon is reincarnated into a particularly punishing dating sim video game, where women reign supreme and only beautiful men have a seat at the table. But Leon has a secret weapon: he remembers everything from his past life, which includes a complete playthrough of the very game in which he is now trapped. Watch Leon spark a revolution to change this new world in order to fulfill his ultimate desire... of living a quiet, easy life in the countryside! (Source: Seven Seas Entertainment)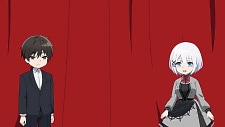 Tantei wa Mou, Shindeiru. Mini Anime
Mini anime series released on YouTube serving as an advertisement for Tantei wa Mou, Shindeiru. light novel.