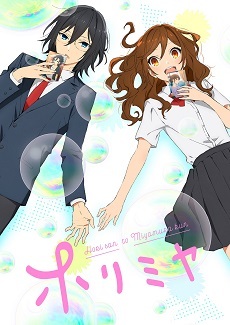 This year's October issue of
GFantasy
announced a television anime adaptation of
HERO
and
Daisuke Hagiwara
's
Horimiya
manga on Wednesday. Aniplex simultaneously opened an official website, revealing the main staff, cast, and a teaser visual (pictured). The anime series will begin airing in January 2021.
Staff
Director:
Masashi Ishihama
(
Persona 5 the Animation
,
Shinsekai yori
)
Series Composition, Script:
Takao Yoshioka
(
Working'!!
,
Kishuku Gakkou no Juliet
)
Character Design:
Haruko Iizuka
(
Inu x Boku SS
,
Little Busters!
)
Music:
Masaru Yokoyama
(
Yamada-kun to 7-nin no Majo
(TV),
Shigatsu wa Kimi no Uso
)
Studio:
CloverWorks
(
Seishun Buta Yarou wa Bunny Girl Senpai no Yume wo Minai
,
Sora no Aosa wo Shiru Hito yo
)
Haruka Tomatsu
(
Tonari no Kaibutsu-kun
) and
Kouki Uchiyama
(
Kokoro ga Sakebitagatterunda.
) are starring as the lead characters Kyouko Hori and Izumi Miyamura, respectively.
Synopsis
Although admired at school for her amiability and academic prowess, high school student Kyouko Hori has been hiding another side of her. With her parents often away from home due to work, Hori has to look after her younger brother and do the housework, leaving no chance to socialize away from school.
Meanwhile, Izumi Miyamura is seen as a brooding, glasses-wearing otaku. However, in reality, he is a gentle person inept at studying. Furthermore, he has nine piercings hidden behind his long hair and a tattoo along his back and left shoulder.
By sheer chance, Hori and Miyamura cross paths outside of school—neither looking as the other expects. These seemingly polar opposites become friends, sharing with each other a side they have never shown to anyone else. [Written by MAL Rewrite]
Hagiwara began drawing
Horimiya
based on HERO's original
4-koma romantic comedy manga
in GFantasy in October 2011, retelling the original story in standard manga format with an updated art style. Square Enix published the 15th volume on Wednesday. Yen Press licensed the manga in English in March 2015 and
shipped
the 14th volume on July 21. The manga has also been published in multiple foreign languages, including Spanish, Polish, and Indonesian.
Horimiya
has a cumulative 5.7 million copies of its volumes in circulation.
HERO launched the original manga on her official website
Dokkai Ahen
in February 2007. Square Enix acquired the series for official release the following year and published the tenth and final volume in December 2011. HERO subsequently continued the manga with
side stories
and irregularly posts them on the website. Square Enix compiles the chapters for physical publication through its Gangan Comics Online imprint and released the 14th volume on Wednesday.
Hoods Entertainment
adapted the original manga into
two original video anime episodes
in September 2012 and March 2014. The third episode was produced in March 2015 by independent studio Marone, established by the anime's general producer Tarou Yamada. The fourth and latest episode by
Gonzo
was
released
in December 2018.
Official site:
https://horimiya-anime.com/
Official Twitter: @
horimiya_anime
Source:
PR Times
Horimiya
on MAL

RSS Feed