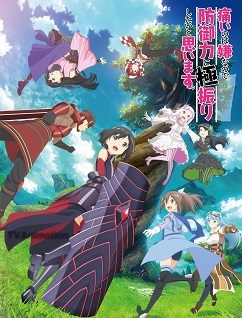 A second season for the
Itai no wa Iya nano de Bougyoryoku ni Kyokufuri Shitai to Omoimasu.
(
BOFURI: I Don't Want to Get Hurt, so I'll Max Out My Defense.
) television anime was announced at the end of its 12th and final episode on Thursday.
Synopsis
After an enthusiastic invitation from her friend, Kaede Honjou reluctantly agrees to try New World Online: a very popular VRMMO played by thousands of people across Japan. Naming her in-game character Maple, she sets out on her journey. As a complete novice to such games, she allocates all of her stat points into vitality, desiring to not get hurt. With not a single point in any other stat, Maple has extraordinarily high defense, but she can't move quickly or hit hard.
This doesn't end badly for her, however. Due to her high defense, Maple acquires overpowered skills such as Total Defense, Poison Immunity, and Devour. These skills, along with the incredibly powerful items she obtains, allow her to obliterate most enemies in a single hit. After only a few days of playing the game, Maple claims third place in a server-wide event, gaining a reputation as a player who is both unkillable and absurdly powerful.
Despite her overpowered character, Kaede has much to learn. As she progresses through the game, she meets new friends and acquaintances, helping her complete new levels and events. Through all of her adventures, she may even pick up some other crazy skills that exceed all expectations. [Written by MAL Rewrite]
Shin Oonuma
(
Death March kara Hajimaru Isekai Kyousoukyoku
) and
Mirai Minato
(
Masamune-kun no Revenge
) co-directed the anime at
Silver Link.
, with
Fumihiko Shimo
(
Musaigen no Phantom World
) handling the series composition.
Kazuya Hirata
(
Sunohara-sou no Kanrinin-san
) served as the character designer and chief animation director.
Voice actresses
Kaede Hondo
(
Mirai no Mirai
) and
Ruriko Noguchi
(
Domestic na Kanojo
) played the lead characters Maple and Sally, respectively. Funimation simulcast the show with subtitles as it aired in Japan, and also began streaming an English dub on January 22.
The anime series adapts
Yuumikan
's
adventure comedy light novel
, which they originally
launched
on the Shousetsuka ni Narou website in May 2016. Kadokawa began publishing the novel in September 2017, featuring artworks by
Koin
(
Haiyore! Nyaruko-san
). The ninth volume shipped on March 10. The light novel has over 700,000 copies of its volumes in print.
Jirou Oimoto
began serializing a
manga adaptation
in
Comp Ace
magazine in May 2018. Kadokawa published the second volume on February 22.
Source:
Funimation
Itai no wa Iya nano de Bougyoryoku ni Kyokufuri Shitai to Omoimasu II
on MAL

RSS Feed