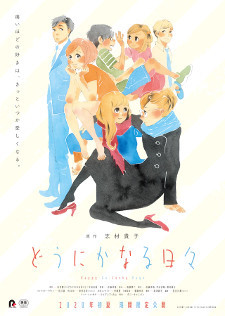 The main cast members and a release date for the anime movie
Dounika Naru Hibi
were announced through the film's official website on Friday. The movie is being produced by
LIDENFILMS
and is set to premiere in theaters throughout Japan on Friday, May 8.
Synopsis
Ecchan and Aya-san, two women who meet at the wedding of a former lover, discover their confusing feelings for one another. Sawa-sensei, a male school teacher, is suddenly confessed to by his student, Yagasaki-kun. Shin-chan, Mika-chan, and Sayoko experience the frustration and distance between each other as a result of puberty.
Cast
Ecchan:
Kana Hanazawa
(
Sora yori mo Tooi Basho
)
Aya-san:
Mikako Komatsu
(
Nagi no Asu kara
)
Sawa-sensei:
Takahiro Sakurai
(
Ano Hi Mita Hana no Namae wo Bokutachi wa Mada Shiranai.
)
Yagasaki-kun:
Seiichirou Yamashita
(
Orange
)
Shin-chan:
Ibuki Kido
(
Subete ga F ni Naru
)
Mika-chan:
Kaori Ishihara
(
Ano Natsu de Matteru
)
Sayoko:
Ai Fairouz
(
Oshi ga Budoukan Ittekuretara Shinu
)
Dounika Naru Hibi
is based off the
manga
of the same name by
Takako Shimura
. The film will consist of four stories, each portraying different aspects of sexual relationships: "Ecchan and Aya-san," "Sawa-sensei and Yagasaki-kun," "Shin-chan and Sayoko," and "Mika-chan and Shin-chan." The staff for the movie was
announced
back in November of last year, which includes director
Takuya Satou
(
Sukitte Ii na yo.
), screenplay by
Yasunori Ide
(
Renkin San-kyuu Magical? Pokaan
) and
Yoriko Tomita
(
Beelzebub-jou no Okinimesu mama.
), character designer
Haruka Sagawa
(
Itazura Majo to Nemuranai Machi
), and editing by
Mai Hasegawa
(
Sakurada Reset
).
Source:
Comic Natalie
News submitted by
RadiantBreeze

RSS Feed