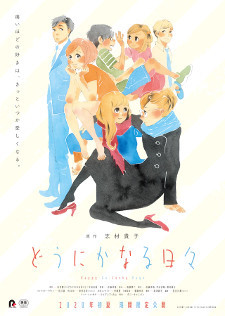 An anime movie based on
Takako Shimura
's
Donika Naru Hibi
(
Happy-Go-Lucky Days
) romance manga was announced through its newly-launched website on Wednesday. In addition to that, the website revealed staff members and also released an announcement video with footage from the movie. It is scheduled to premiere in Japanese theaters in Summer 2020.
Staff
Director:
Takuya Satou
(
Sukitte Ii na yo.
,
Asagao to Kase-san.
)
Screenplay: Takuya Satou,
Yasunori Ide
(
Renkin San-kyuu Magical? Pokaan
),
Yoriko Tomita
(
Beelzebub-jou no Okinimesu mama.
)
Character Design:
Haruka Sagawa
(
Itazura Majo to Nemuranai Machi
)
Art Director:
Yukihiro Saitou
(
Kishuku Gakkou no Juliet
)
Concept Art: Yutaka Ito (
Suzumiya Haruhi no Yuuutsu
background art)
Color Key: Sachie Nakamura (
Doukyonin wa Hiza, Tokidoki, Atama no Ue.
color setting)
Director of Photography:
Junpei Takatsu
(
Mahou Shoujo Tokushusen Asuka
)
Technical Director:
Kouji Aritomi
(
Yahari Ore no Seishun Love Comedy wa Machigatteiru.
animation director)
Editing:
Mai Hasegawa
(
Sakurada Reset
)
Studio:
LIDENFILMS
Distribution:
Pony Canyon
Announcement
Donika Naru Hibi
is a collection of stories about sexual relationships between young people in Japan. Written and drawn by Shimura, the manga was serialized in the
Manga Erotics F
magazine between 2002 and 2004. Two compiled volumes were released by Ohta Publishing.
Official site:
https://dounikanaruhibi.com/
Official Twitter: @
dounika_anime
Source:
Comic Natalie
Dounika Naru Hibi
on MAL

RSS Feed