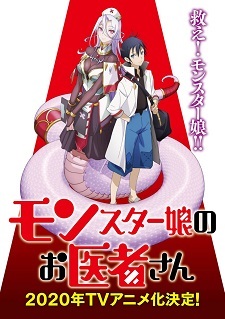 Shueisha opened an official website for a television anime adaptation of
Origuchi Yoshino
's
Monster Musume no Oishasan
(
Monster Girl Doctor
) light novel on Thursday, revealing the staff, a teaser promo, and a teaser visual (pictured). The anime series is scheduled for a 2020 premiere.
Synopsis
In the town of Lindworm where monsters and humans coexist, Dr. Glenn runs an exemplary medical clinic for monster girls with his lamia assistant, Sapphee. Whether receiving a marriage proposal by a centaur injured in battle, palpating the injury of a mermaid, or suturing the delicate wounds of a flesh golem, Dr. Glenn performs his job with grace and confidence. But when an unsavory character seeks to steal a harpy egg, how will the unflappable Dr. Glenn respond...? (Source: Seven Seas Entertainment)
Staff
Director:
Yoshiaki Iwasaki
(
Love Hina
,
Zero no Tsukaima
)
Series Composition:
Hideki Shirane
(
Dungeon ni Deai wo Motomeru no wa Machigatteiru Darou ka
,
Boku no Kanojo ga Majimesugiru Sho-bitch na Ken
)
Character Design:
Hiromi Katou
(
Guilty Crown
,
ID-0
)
Music:
TO-MAS
(
Alice to Zouroku
,
Flip Flappers
)
Studio:
Arvo Animation
Origuchi began publishing the light novel through Shueisha's Dash x Bunko imprint in June 2016, featuring illustrations by
Z-ton
. The seventh volume will go on sale on November 22.
Tomasu Kanemaki
has been drawing a
manga adaptation
in
Comic Ryu Web
magazine on a monthly basis since last February. Tokuma Shoten published the first volume on January 12.
Seven Seas Entertainment licensed the light novel in April 2017 and
published
the fourth volume on May 28. The fifth volume is
planned
for a November 26 release.
Teaser PV
Official site:
https://mon-isha-anime.com/
Official Twitter: @
mon_isha_anime
Novel special site:
http://dash.shueisha.co.jp/feature/monmusu/
Source:
LN News
News tip submitted by
_MushiRock11_
Monster Musume no Oishasan
on MAL

RSS Feed