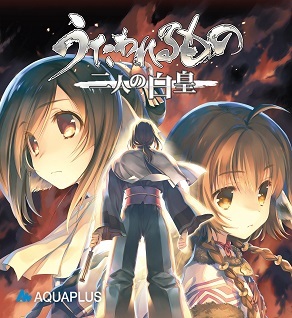 Naoya Shimokawa
, president and representative director of
Aquaplus
, announced on his Twitter account on Saturday that visual novel
Utawarerumono: Futari no Hakuoro
(
Utawarerumono: Mask of Truth
) will get an anime adaptation.
Game Synopsis
After the events of Mask of Deception, the Yamato Empire is now ruled with an iron fist by a ruthless usurper who seeks to subjugate all before him. It's up to a couple of familiar faces to band together against the might of the Imperial army, and the fate of the world hangs in the balance as nations and generals must pick a side to fight with in this perilous civil war. Secrets will be revealed, friendships will be tested, and battles will be fought. Will peace and order be restored or will victory at any cost be the beginning of the end? (Source: Atlus)
Utawarerumono: Futari no Hakuoro
is the final entry of Aquaplus'
Utawarerumono
trilogy and was released in Japan for the PlayStation 3, PlayStation 4, and PS Vita in September 2016. The first game
Utawarerumono
was developed by Leaf for Windows in April 2002 and was later ported on the PS2, PSP, PS4, and the PSV by Sting Entertainment. The second game,
Utawarerumono Itsuwari no Kamen
, was released in September 2015.
Game publisher Atlus released the second and third games in North America in May and September 2017, respectively. NIS America plans to release the first game under the subtitle
Prelude to the Fallen
in March 2020.
OLM
adapted the first game into a
26-episode TV anime
that aired in 2006. In 2009 and 2010,
Chaos Project
released a
three-episode OVA
that covered events that were not shown in the TV anime.
White Fox
produced a
TV anime adaptation
based on the second game in Fall 2015.
Source:
Inside Games
Utawarerumono: Futari no Hakuoro
on MAL

RSS Feed