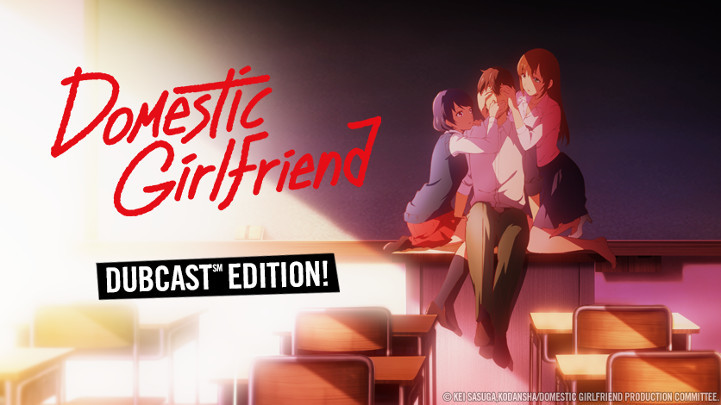 Streaming platform HIDIVE announced on their website on Friday the English dub cast for
Diomedea
's TV anime
Domestic na Kanojo
(
Domestic Girlfriend
).
John Swasey
is directing the dub and Holly Segarra is penning the script. The dub will be available to stream on HIDIVE on September 13.
Cast
Natsuo Fujii:
Austin Tindle
Young Natsuo:
Bryson Baugus
Hina Tachibana:
Patricia Duran
Rui Tachibana:
Natalie Rial
Fumiya Kurimoto:
Andrew Love
Akihito Fujii:
Mark Laskowski
Tsukiko Tachibana:
Carli Mosier
Momo Kashiwabara:
Hilary Haag
Mui Ashihara:
Luci Christian
Reiji Kiriya:
David Wald
Masaki Kobayashi:
John Gremillion
Yuuya Masaoka: Courtland Johnson
Kazushi Kine: Mike Haimoto
Shuu Hagiwara:
Adam Gibbs
Sanae: Taylor Fono
Marika: Christie Guidry
Chika:
Christina Kelly
Rie: Mai Le
Al:
Blake Shepard
Kanae, Jun:
Kira Vincent-Davis
Mina, Ayano:
Avery Smithhart
Katsuragi, Shibata, Tsutaya:
Scott Gibbs
Rika, Youta, Yanase:
Allison Sumrall
Additional cast members include Elizabeth Byrd,
Mike Vance
, and
Olivia Swasey
.
Domestic na Kanojo
adapts the drama
manga
drawn by
Kei Sasuga
, which is currently serializing in
Weekly Shounen Magazine
. The anime adaptation was broadcast in Winter 2019 for 12 episodes.
The series was streamed on HIDIVE and Crunchyroll as it was airing in Japan. Sentai Filmworks plans to release the anime for home distribution in North America.
Trailer
Source:
HIDIVE

RSS Feed