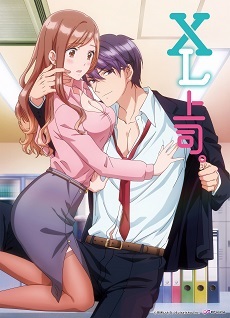 Web manga platform ComicFesta announced an anime adaptation of Itоu Kani's
Jоushi no Asoko wa XL Size!?: Futoi Sakippo... Haitteru...!
adult romance manga on Wednesday. Titled
XL Joushi.
, the standard version of the anime will debut on October 7 at 1:00 a.m. on Tokyo MX, as well as YouTube and Niconico. A complete version will begin streaming the same day on the ComicFesta Anime website.
Synopsis
Running short of money, office lady Saki Watase is introduced to a part-time job where she's tasked with reviewing XL-size condoms. While receiving an escort home after a night of drinking, Saki's "demon" boss Keisuke Sudou notices that she's carrying a large quantity of condom. Once Saki explains her circumstances, Keisuke reveals that he is XL-size. A romance between the two thus begins.
Staff
Director:
Mitsutaka Noshitani
(
Amai Choubatsu: Watashi wa Kanshu Senyou Pet
)
Script: Kazuhiro Toda (
Hitori no Shita: The Outcast
assistant director)
Character Design, Chief Animation Director: Nanashi (
Skirt no Naka wa Kedamono Deshita.
)
Color Design: Anohito (
Araiya-san!: Ore to Aitsu ga Onnayu de!?
)
Art Director: Tsutomu Ikeda (
Tenchi Muyou! Ryououki 4th Season
)
Director of Photography: Kouhei Yamamoto (
Senran Kagura
)
Editing: Serie@G
Sound Director:
Takahiro Enomoto
(
Bikini Warriors
)
Sound Production:
Studio Mausu
Studio:
Magic Bus
Production:
Picante Circus
,
Suiseisha
Cast
Keisuke Sudou:
Haruki Ishiya
(
Akiba's Trip The Animation
)
Saki Watase:
Shiori Izawa
(
Nanatsu no Bitoku
)
Riku Narita:
Fumiyoshi Shioya
(
Battery
)
Masato Kawamura (
HHH Triple Ecchi
), Haruno Iroha (
Shin Koihime†Musou
), and Sen Yane (
The iDOLM@STER SideM
) are voicing Keisuke, Saki, and Riku in the complete version, respectively.
Kani launched the manga digitally through the TL Screamo label in September 2018. Suiseisha published the first compiled volume on April 19, with the second volume scheduled for an October 18 release.
Official site:
https://xljoushi.cf-anime.com/
Source:
Anime Hack
XL Joushi.
on MAL

RSS Feed