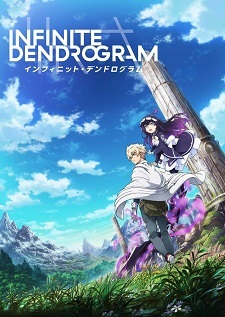 Animation production and distribution company
Hakuhodo DY Music & Pictures
opened an official website for a TV anime adaptation of
Sakon Kaidou
and
Taiki
's sci-fi fantasy light novel
Infinite Dendrogram
on Thursday. The anime series is commemorating the 50th anniversary of Hobby Japan, the light novel's publisher.
Synopsis
In the year 2043, <Infinite Dendrogram>, the world's first successful full-dive VRMMO was released. In addition to its ability to perfectly simulate the five senses, along with its many other amazing features, the game promised to offer players a world full of infinite possibilities. Nearly two years later, soon-to-be college freshman, Reiji Mukudori, is finally able to buy a copy of the game and start playing. With some help from his experienced older brother, Shuu, and his partner Embryo, Reiji embarks on an adventure into the world of <Infinite Dendrogram>. Just what will he discover and encounter in this game world known for its incredible realism and infinite possibilities? (Source: J-Novel Club)
Cast
Ray Starling (Reiji Mukudori):
Souma Saitou
(
Rokka no Yuusha
)
Nemesis:
Yuuko Oono
(
Ulysses: Jehanne Darc to Renkin no Kishi
)
Shu Starling:
Satoshi Hino
(
Overlord
)
Rook Holmes:
Makoto Koichi
(
Nurse Witch Komugi-chan R
)
Babylon:
Yuuki Takada
(
Yagate Kimi ni Naru
)
Hugo Lesseps:
Ayumu Murase
(
D.Gray-man Hallow
)
Cyco:
Yui Ogura
(
Tsurezure Children
)
Marie Adler:
Yoko Hikasa
(
Hataraku Maou-sama!
)
Kaidou originally
launched
the novel in Shousetsuka ni Narou website in October 2015. Hobby Japan began publishing the novel with illustrations by Taiki the following October. The ninth volume will be released under its HJ Bunko imprint on February 1. The series has a cumulative 440,000 copies of its volumes in circulation.
Kami Imai
(
Needless
)
began serializing
a
manga adaptation
in
Comic Fire
website in December 2016, which has been collected into three compiled volumes as of last July. The fourth volume will go on sale on January 26.
J-Novel Club licensed the light novel in English in May 2017 and the manga this past November for digital release. The eighth light novel volume was
published
on January 15. The planned release of the first manga volume is approximately six weeks away from now.
Infinite Dendrogram
placed third in the
2018 edition of Kono Light Novel ga Sugoi rankings
by publisher Takarajimasha.
Official site:
http://dendro-anime.jp/
Official Twitter: @
Dendro_h
Source:
Moca News
Infinite Dendrogram
on MAL

RSS Feed