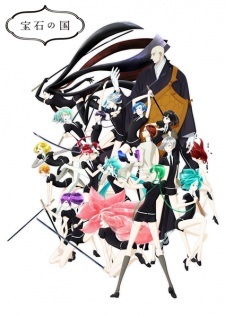 Sentai Filmworks
announced the English dub cast for
Orange
's
Houseki no Kuni
(
Land of the Lustrous
) at their Anime NYC panel on Friday.
Kyle Jones
will direct the dub. The company plans to release the series as a steel book edition on January 22, 2019.
Cast
Phosphophyllite:
Sarah Wiedenheft
Diamond:
Savannah Menzel
Rutile:
Shelley Calene-Black
Kongou-sensei:
Brian Mathis
Bort:
Genevieve Simmons
Cinnabar:
Avery Smithhart
Jade: Heidi Hinkle
Antarcticite: Alyssa Marek
Ventricosus:
Luci Christian
Yellow Diamond:
Allison Sumrall
Euclase:
Serena Varghese
Alexandrite:
Shelby Blocker
Amethyst: Teresa Zimmerman
Morganite:
Olivia Swasey
Zircon:
Brittney Karbowski
Red Beryl: Cat Thomas
Benitoite: Elissa Cuellar
Goshenite:
Juliet Simmons
Aculeatus:
Maggie Flecknoe
Padparadscha:
Christina Kelly
Obsidian:
Shanae'a Moore
Neptunite:
Carli Mosier
Ice:
Kalin Coates
PV
Haruko Ichikawa
began penning
Houseki no Kuni
in October 2012, where it currently serializes in
Afternoon
. Kodansha published the manga's tenth volume on October 10. The anime adaptation aired in Fall 2017 for 12 episodes.
Amazon's defunct Strike service simulcast the series in North America and Kodansha Comics USA will
ship
the the seventh volume on November 20.
Source:
Official site

RSS Feed