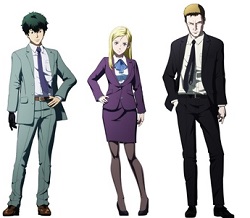 Additional staff members for the
previously announced
Ingress
TV anime have been announced to join director
Yuuhei Sakuragi
at its XM Festival Fukuoka event on Saturday. An official Twitter account for the series has also been launched, revealing character visuals for Makoto, Sarah, and Jack. Produced by studio
Craftar
, the anime is slated for this fall via Fuji TV's new timeslot +Ultra.
Staff
Script: Team Tsukishima (
Souki Tsukishima
, Tora Tsukishima) (
Final Fantasy Reishiki Change the World
story)
Music:
Hidehiro Kawai
(
Soutai Sekai
)
Original Character Design:
Takeshi Honda
(
Omoide no Marnie
key animation)
Assistant Director: Yoshinari Irikawa (
.hack//G.U. Trilogy
direction)
CG Director: Kou Furukawa (
Monsuto Anime
animation director)
Art Director: Hiroshi Katou (
Death March kara Hajimaru Isekai Kyousoukyoku
),
Hirofumi Sakagami
(
Imouto sae Ireba Ii.
)
Assistant Art Director: Honoka Arai (
Hagane Orchestra
)
Modeling Director: Masashi Miyaoka (
Tiger & Bunny
3DCG)
Animation Director: Maru Kobayashi
Director of Photography: Tatsuya Nomura (
Bamboo Blade
)
Official Twitter: @
IngressAnime
Source:
Moca News

RSS Feed