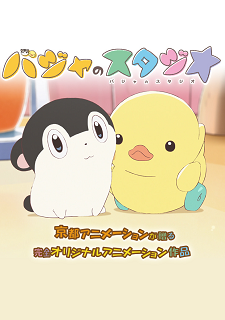 An official website has opened for an original anime titled
Baja no Studio
by studio
Kyoto Animation
, which will be released as a Blu-ray for advance ticket buyers of KyoAni & Do Fan Days 2017. The third edition of the fan thanksgiving event will be held on October 28 and 29 in Kyoto.
The palm-sized Baja Mouse has long been the mascot character of Kyoto Animation and is often paired with the duckling Ga-chan. In 2016, to commemorate the relaunching of the KA Esuma Bunko light novel publishing label's website, Kyoto Animation
released
a set of icons featuring the two characters.
Synopsis
"My name is Baja. That's what everyone calls me, so it's probably Baja. I came here from the outside world when I was little. As for what happened when I was born, I don't remember much of it."
Kohata Anime Studio is a place full of dreams where animation is made. Baja was raised in this studio by the people who create animation. Floating in a pond outside are his friends the ducks. Baja enjoys a fun and blissful daily life. One night, when all the people are no longer at the studio, Baja takes a peek outside and finds that his duck friends are being attacked by a cat. Will Baja be able to save his friends? A wondrous night adventure begins!
Cast
Baja:
Maika Yoshida
Ga-chan:
Mutsumi Tamura
(
Kobayashi-san Chi no Maid Dragon
)
Coco:
Azusa Tadokoro
(
Musaigen no Phantom World
)
Kanako:
Hisako Kanemoto
(
Suisei no Gargantia
)
Staff
Director:
Yoshiji Kigami
(
Sora wo Miageru Shoujo no Hitomi ni Utsuru Sekai
)
Animation Check:
Hiroko Kuroda
(
Hyouka
),
Asami Matsumura
(
Kobayashi-san Chi no Maid Dragon
)
Color Design:
Kana Miyata
(
Nichijou
),
Akiyo Takeda
(
Hibike! Euphonium
)
Special Effects:
Rina Miura
(
K-On!
)
Art Director:
Shouko Ochiai
(
Amagi Brilliant Park
),
Naoki Hosokawa
(
Suzumiya Haruhi no Shoushitsu
)
Director of Photography:
Akihiro Ura
(
Kobayashi-san Chi no Maid Dragon
)
3D Director:
Rin Yamamoto
(
Clannad: After Story
)
CG Episode Director:
Kouki Ueda
(
K-On! Movie
)
Sound Director:
Youta Tsuruoka
(
Air
)
Studio:
Kyoto Animation
Baja no Studio
can be purchased as part of a 12,000-yen commemorative ticket package which also includes a 124-page staff commentary book featuring the Kyoto Animation's works from 2016 and 2017, a 118-page art book of works from 2016 and 2017, and a 72-page production notebook of the new animation work.
The commemorative ticket package can be
purchased
at the Kyoto Animation online shop through 11:59 p.m. Japan time on July 30. Regular tickets for the fan event are priced at 3,000 yen and can be purchased through October 22.
PV 3
Official site:
http://www.kyotoanimation.co.jp/baja/
Source:
Zaikei Shimbun
Baja no Studio
on MAL

RSS Feed