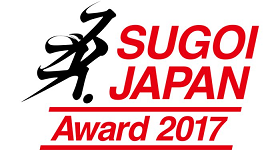 Winners of the third Sugoi Japan Award were announced at a ceremony in Tokyo on Thursday. Entries include anime which began broadcasting from July 2015, along with manga, light novels, and entertainment novels which began publishing from January 2013. Nominees were chosen by Japanese fans and experts who believe that these series have the potential to become global hits. Voting took place between November 16, 2016, and January 3, 2017.
Sugoi Japan Award is co-organized by the Yomiuri Shimbun newspaper and is supported by the Ministry of Foreign Affairs, the Ministry of Economy, Trade, and Industry, the Association of Manga Publishers, and Tokyo Otaku Mode.
Anime

1.
Re:Zero kara Hajimeru Isekai Seikatsu
2.
Boku dake ga Inai Machi
3.
Joker Game
4.
One Punch Man
5.
JoJo no Kimyou na Bouken: Diamond wa Kudakenai
Manga
1.
Boku no Hero Academia
2.
Golden Kamuy
3.
Ten Count
4.
Dagashi Kashi
5.
Mahoutsukai no Yome
Light Novels

1.
Re:Zero kara Hajimeru Isekai Seikatsu
2.
Kono Subarashii Sekai ni Shukufuku wo!
3.
Yes ka No ka Hanbun ka
4.
Qualidea Code Series
5.
Kamisama no Goyounin
Entertainment Novels

1.
Kimi no Na wa.
(Novelization)
2.
Danganronpa Kirigiri
3.
Konbini Ningen
4.
Shinjitsu no 10 Meter Temae
5.
Hitsuji to Hagane no Mori
Source:
Official site
Related Database Entries
| | |
| --- | --- |
| Anime: | One Punch Man, Boku dake ga Inai Machi, Re:Zero kara Hajimeru Isekai Seikatsu, Joker Game, JoJo no Kimyou na Bouken Part 4: Diamond wa Kudakenai |
| Manga: | Danganronpa Kirigiri, Ten Count, Mahoutsukai no Yome, Re:Zero kara Hajimeru Isekai Seikatsu, Boku no Hero Academia, Dagashi Kashi, Kono Subarashii Sekai ni Shukufuku wo!, Golden Kamuy, Qualidea Code |

RSS Feed