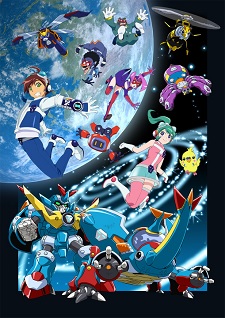 Tatsunoko Production
has announced that the upcoming TV anime
Time Bokan 24
, a new production of its classic
Time Bokan
title, will begin airing in October 2016.
The original
Time Bokan
series began airing 41 years ago on Fuji Television and earned a viewership rating as high as 26.3% with an average of 19.0%. It also spun off other classic titles such as
Yatterman
and
Zenderman
.
Time Bokan 24
is one of two productions commemorating the Tatsunoko Production's 55th anniversary, which will fall in October 2017. The series will air on Yomiuri TV, NTV, and affiliated networks on Saturdays at 5:30 p.m.
Synopsis
The protagonist Tokio is a first-year middle school student living in modern Tokyo. One day to his surprise, he is suddenly appointed as a member of a 24th century organization, the Space-Time Administration Bureau. Tokio learns that, in reality, the history written in textbooks is all a lie and that the true history of the world contains amusing facts that remain hidden. For example, the beautiful woman known in history as Cleopatra is actually a stand-up comedy duo named Cleo and Patra. Additionally, the folk tale hero Momotarou is a man more demonic than all demons.
Tokio and fellow bureau member Calen use the Bokan Mecha 24, a machine which can transform and merge into various forms, to search for true history. Tokio and his friends must face three evils familiar to the
Time Bokan
series, Bimajo, Tsubuyakky, and Suzukky. Together, they form a group called the Akudama which has been hired by the world's largest textbook company, History Paradise, to protect the history textbook. What true history will be revealed next?
Staff
Director:
Takayuki Inagaki
(
Jewelpet Sunshine
)
Series Composition:
Youichi Katou
(
Youkai Watch
)
Creative Producer:
Akihiro Hino
(
Youkai Watch
)
Mechanical Design:
Kunio Ookawara
(
Mobile Suit Gundam
)
Planning Cooperation, Original Character Design, Original Mechanical Design:
Level-5
Production:
Yomiuri Telecasting Corporation
,
Tatsunoko Production
Studio: Tatsunoko Production
Official site:
http://www.ytv.co.jp/timebokan24/
Source:
Akiba Souken
,
Mantan Web

RSS Feed