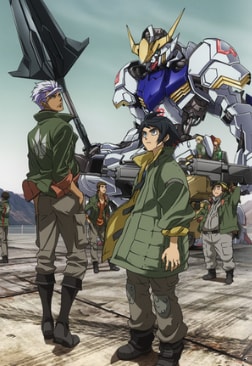 It was revealed through a live stream conference that a brand new
Gundam
series titled
Mobile Suit Gundam: Tekketsu no Orphans
(
Mobile Suit Gundam: Iron-blooded Orphans
) will premiere on October 4, 2015. The series will be replacing
Arslan Senki (TV)
, which is currently airing on Sunday afternoon.
The conference also revealed the main staff of the series as well as character designs:
Synopsis
300 years after the end of a great war between Earth and Mars called Yakusaisen (Calamity War), the Earth, losing the ruling authority during the war, structured a new world with a ruling system. A new war on Mars is starting while the Earth is in temporary peace.
The main character Mikazuki Augus, from Chryse Guard Security (CGS), was on a mission to protect Cuderia Aina Bernstein, who wants Chryse, Mars' city, to be independent from Earth's ruling. However, a group named Gjallarhorn started a rebellion, attacked CGS and Cuderia, and the adults in CGS decided to use the boys in the team as decoy to evacuate. Orga Itsuka, the leader of the boys, decided to use that as a chance to launch a coup d'état because the adults have been treating them badly for a long time. Mikazuki, with Orga's request to defeat Gjallargorn, uses Gundam Barbatos, a major mobile suit that CGS used during Yakusaisen to fight.
Staff
Director:
Tatsuyuki Nagai
(
Ano Hi Mita Hana no Namae wo Bokutachi wa Mada Shiranai
)
Series Composition:
Mari Okada
(
Toradora!
)
Original Character Design: Yuu Itou
Character Design:
Michinori Chiba
Mechanical Design:
Naohiro Washio
(
Mobile Suit Gundam 00
),
Kanetake Ebikawa
(
Full Metal Panic!
),
Kenji Teraoka
(
Aldnoah.Zero
), Ippei Gyoubu, Tamotsu Shonohara
Art Design: Kusanagi
Music Composition:
Masaru Yokoyama
(
Shigatsu wa Kimi no Uso
)
Official site:
http://g-tekketsu.com/
Official Twitter: @ g_tekketsu
Source:
Otakomu
Previous related news:
Sunrise Teases Next 'Gundam' Project
Mobile Suit Gundam: Iron-Blooded Orphans
on MAL

RSS Feed