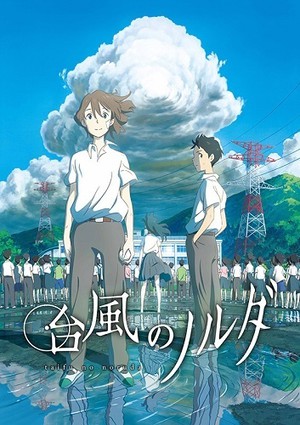 A new animated film titled
Taifuu no Noruda
(
Typhoon Noruda
) was announced by
Studio Colorido
during the premiere of TV series
Punchline
. The film is set to debut in Japan on June 5 and will remain in theaters for a limited three weeks.
Taifuu no Noruda
is the studio's first feature-length film since their formation in 2011. Their previous works include a number of short ONA anime, along with two short films released in November 2013, titled
Shashinkan
and
Hinata no Aoshigure
.
Synopsis
The film takes place on a certain isolated island, at a certain middle school, and on the eve of the culture festival. A boy quits baseball after playing his whole life and has a fight with his best friend. Then, they suddenly meet a mysterious, red-eyed girl named Noruda, and a huge typhoon hits the middle school. (Source: ANN)
Staff
Director:
Youjirou Arai
Character Design, Animation Director:
Hiroyasu Ishida
(
Rain Town
)
Music:
Masashi Hamauzu
(
Binbougami ga
)
Teaser:
https://youtu.be/RRJGiLgjhUU
Source:
Official site
Taifuu no Noruda
on MAL
Update April 24
The official site announced the opening theme song performer, cast, more staff members, and revealed a new visual.
Cast
Shuuichi Azuma: Shuuhei Nomura
Kenta Saijou: Daichi Kaneko
Noruda: Kaya Kiyohara
Staff
CG Director: Norihiko Miyoshi
Art Director: Mika Nishimura
Color design:
Haruko Nobori
Director of photography: Mitsuhiro Sato
Editing: Hiroshi Okuda
Sound director:
Satoshi Motoyama
Opening Theme: "Arashi no Ato de" by Galileo Galilei
Key Visual
Source:
Official site

RSS Feed