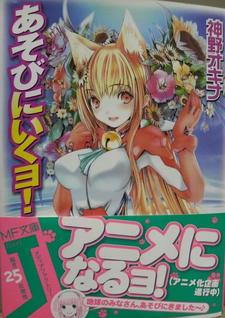 According to the cover note of the novel, Kamino Okina's light novel "Asobiniikuyo!" was announced to be get an anime adaptation. Asobi ni Iku yo! series started in 2003 and a manga adaptation has been published in Monthly Comic Alive since 2006. A Playstation2 game based on the novel was also released in 2006. (
Official website of the game
)
Synopsis:
A Sci-fi love comedy. Kakazu Kio is a timid high school boy. One day he wakes up to find a girl with cat ears and tail sleeping next to him. Her name is Eris and she is an alien called "Catian". CIA, secret societies, and Japanese government are after her. To protect her life, Kio involves himself in the intrigues and the strifes.
Cover of the novel volume 4
*the illustrator Houdeneizou also draws the arts of "
Wagaya no Oinari-sama
" novel.
Cast of the drama CD and the game (Anime cast can be different)
Kakazu Kio:
Sanpei Yuko
Eris:
Kawasumi Ayako
Futaba Aoi:
Noto Mamiko
Kinjo Manami:
Toyoguchi Megumi
Antonia:
Saito Ayaka
Maya:
Kobayashi Sanae
Sara:
Satou Yuuko
Miyagi Yuuichi:
Okiayu Ryoutarou
Itokazu Maki:
Chiba Saeko
Ichika:
Kawakami Tomoko
Chaika:
Takagi Reiko
Melwin:
Iguchi Yuka
Durel:
Itou Shizuka
Jens:
Watanabe Akeno
Roelofs:
Kaneda Tomoko
Fey:
Satou Rina
Source:
Scan of the cover
Asobi ni Iku yo!
on MAL

RSS Feed