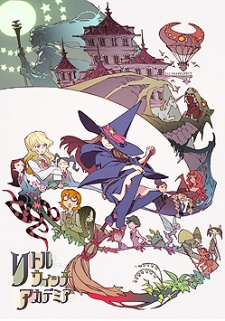 A crowdfunding project on Kickstarter to extend the sequel to "
Little Witch Academia
" from the planned 20 minutes to 35 minutes met its goal of raising US$150,000 in its first day of launch. Currently the sum has come to over US$195,000 and the project still has 29 days to go.
Pledging starts from US$1 and anybody who pledges that amount can get a digital wallpaper. Those who pledge US$20 or more receives the right to download an artbook and the standard definition of the finished sequel. Those who pledge US$50 or more will receive the printed edition of the artbook and the blu-ray disc of the sequel. There are also other gifts for pledges of over US$100, US$200 and US$300. Limited places of special gifts are also available for big backers who pledge US$1000, US$2000 and US$10000. There are only 3 places for backers pledging US$10000 and these are the category that was filled the fastest. The 3 backers will be granted a visit to Studio TRIGGER and dinner with the Studio TRIGGER team, as well as visit to the offices of related companies such as Ultra Super Pictures and Good Smile Company, and the trip also includes two nights of accommodation.
Kickstarter crowdfunding site for Little Witch Academia 2:
http://www.kickstarter.com/projects/1311401276/little-witch-academia-2
Source:
IT Media
Previous related topic:
Anime 'Little Witch Academia' to Get Sequel
Little Witch Academia 2
on MAL

RSS Feed