Top Music anime with awesome songs and beautiful stories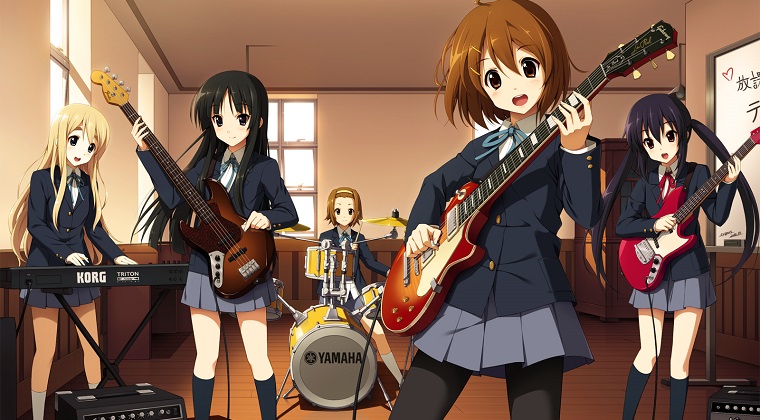 The best music anime certainly tends to feature an amazing soundtrack to compliment the action of the show. But oftentimes what drives the story forward and keeps viewers intrigued is the drama behind the music; the motivation, struggle, romance, and friendship between characters are vital components to what are often very emotionally charged narratives. Here are 15 of the best music anime for lovers of music, and a good story.
The List of The Best Music Anime; Find Your Favorite Anime Song!
---
---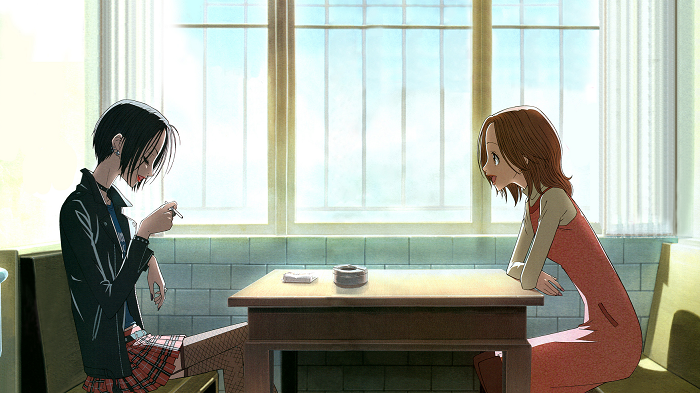 Nana is famous for having an amazing soundtrack filled with rock and punk tracks. This music anime revolves around a chance meeting of two girls who share the same name but have completely different personalities.
A little trivia for fans; two popular Japanese singers, Anna Tsuchiya and OLIVIA, contributed to the production of the anime not only by voicing two main singers but also by releasing soundtrack albums composed entirely of music from the anime.
---
---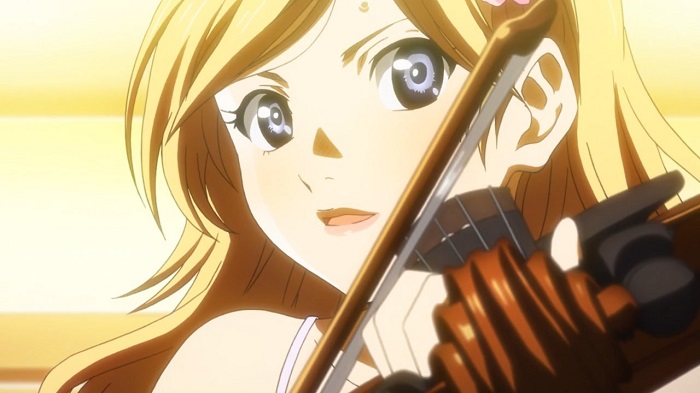 Your Lie in April follows the prodigious pianist Kousei who is reminded of the power of music and how to enjoy it freely when he meets a mysterious violinist Kaori. Besides the original soundtrack, Shigatsu wa Kimi no Uso also contains some of the most famous classical pieces by Mozart, Kreisler, Chopin, Bach and others. If you'd like to enjoy some of the most beautiful instrumental pieces spiced up with a melancholic story and romance, then this should be on your list.
---
---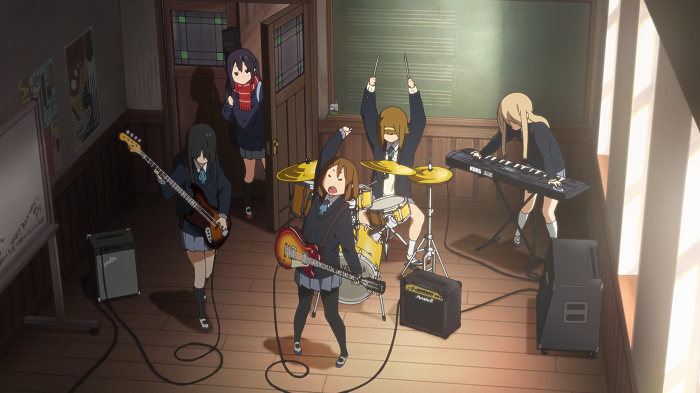 The Light Music Club may be famous for having five adorable and moe school girls, but they are also talented and quite passionate about their band. The voice actresses of the four main characters released a series of character pop songs with rockish elements whose popularity even spurred many sold out live concerts.
---
---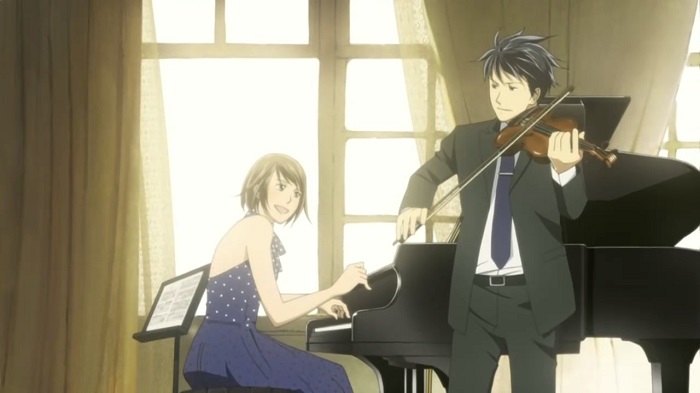 If you enjoyed Your Lie in April, then you might also want to check out Nodame Cantabile. Chiaki is a musician and perfectionist who only plays by the rules, while Nodame is a free-spirited pianist who can create amazing music even without hitting all the right notes. It contains many famous classical pieces as well as a couple of original songs.
---
---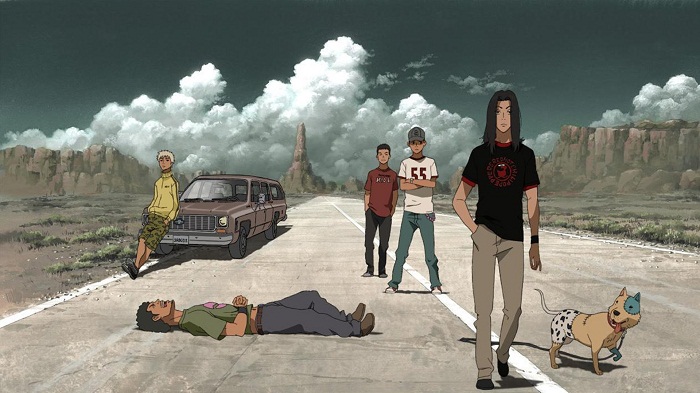 Beck is about a fictional rock band of the same name. It follows the lives and ambitions of five young musicians who need to deal with their rising fame and everyday struggles. Most of the original songs in the anime are performed by the voice actors, with a little help from Beat Crusaders. A great coming-of-age story, Beck will take you on a wild rock and roll journey.
---
---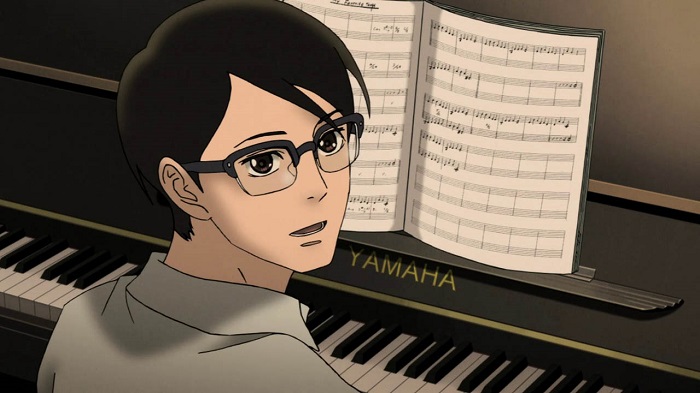 Another coming-of-age music anime which, this time, revolves around the oft-ignored genre of jazz. Introverted classical pianist Kaoru Nishimi gets introduced to the delightful world of jazz music by none other than the school's biggest delinquent Sentarou Kawabuchi. Both of them start creating their own original pieces in Sentarou's basement and form not only an interesting musical duo, but also a strong friendship.
---
---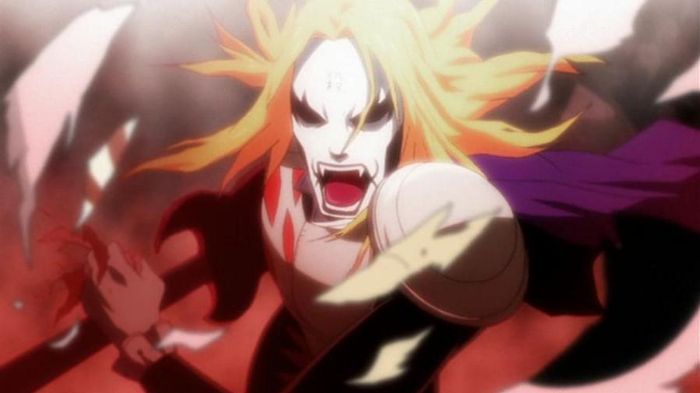 This hilarious anime follows a shy boy Souichi Negishi who has always dreamed of being a pop idol but in order to pay the bills ends up as the front-man of the notorious death metal band "Detroit Metal City".
---
---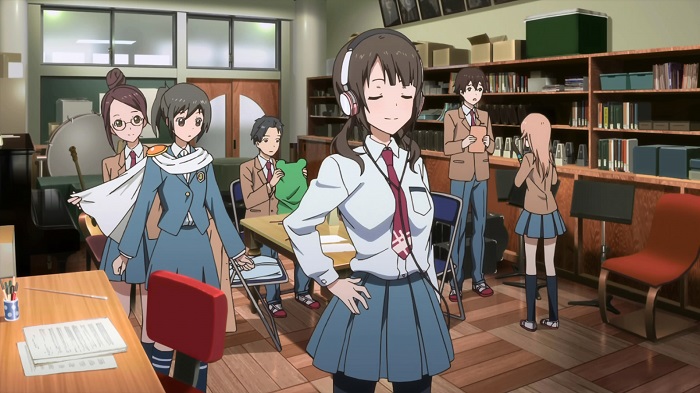 Tari Tari is a relaxing anime about high school student Konatsu Miyamoto who decides to form her own singing club in order to participate in a special recital that is held every year at her school. However, finding the right members for her club in time for the event wont be an easy task!
---
---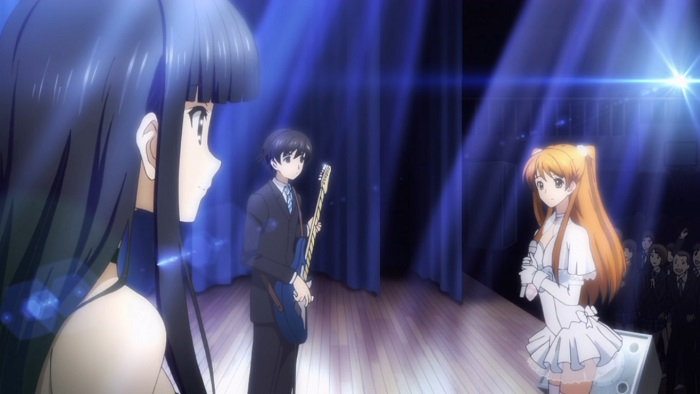 Haruki Kitahara, a member of the Light Music Club, wants to perform at the school festival but everything changes when a beautiful pianist and vocalist join his club and he becomes torn between these two girls. It's an emotional rollercoaster driven by the drama and intrigue of a complex love triangle, with the added bonus of an amazing soundtrack.
---
---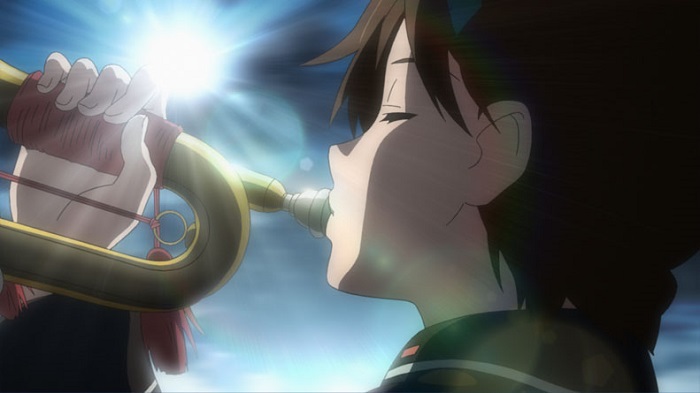 Kanata Sorami enlists as a soldier for only one purpose - to play the bugle. Soon she finds friends among other buglers and they all find motivation and inspiration in music while enduring the harsh training in the military.
---
---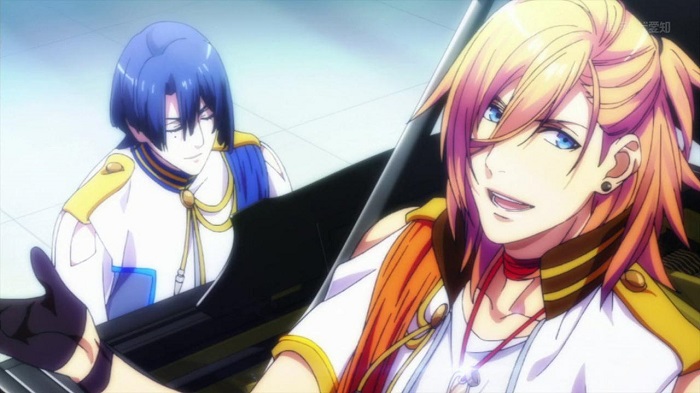 What would you do if you found yourself at a music academy unexpectedly surrounded by a bunch of hot idols? Oh, did we mention the idols are all male? This reverse harem music anime features a host of sexy wannabe idols and a female lead who longs to become a composer.
---
---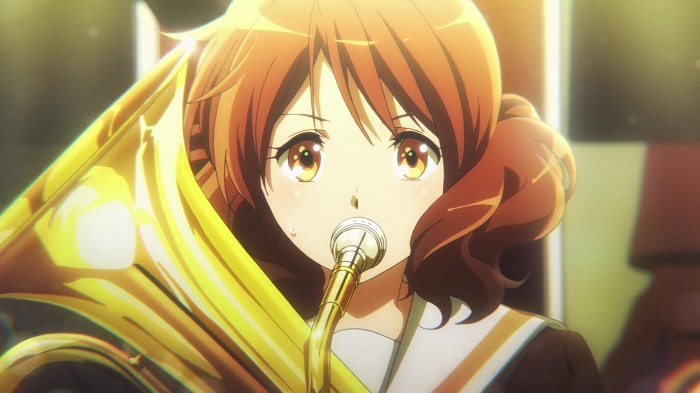 If you're looking for something fresh and different, then this show about a brass band and euphonists may be just for you. It is a different take on the musical and school genre which might appeal to those who are tired of the shows about rock bands and idol groups.
---
---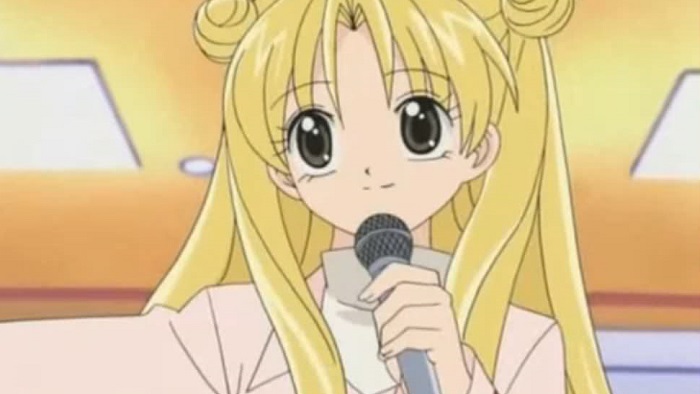 Full Moon wo Sagashite may seem like just another cutesy series judging by the cover art, but it deals with darker and more serious themes than your typical shoujo anime. Mitsuki Kouyama is diagnosed with throat cancer and it seems that her singing career is now impossible, but she refuses to give up - with only one year left to live, she is going to pour all of her soul into music and her dreams.
---
---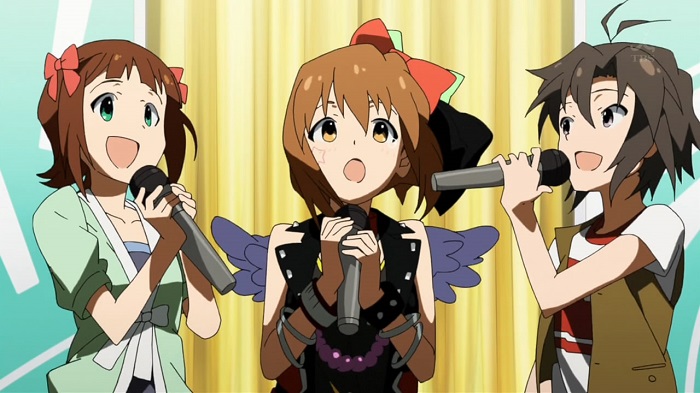 The iDOLM@STER follows 13 cute and talented girls as each one strives to become a top idol. It's a heartwarming tale of friendship and struggle, and despite featuring such a large roster of main characters, goes into surprising depth for each of them to really bring the whole ensemble to life.
---
---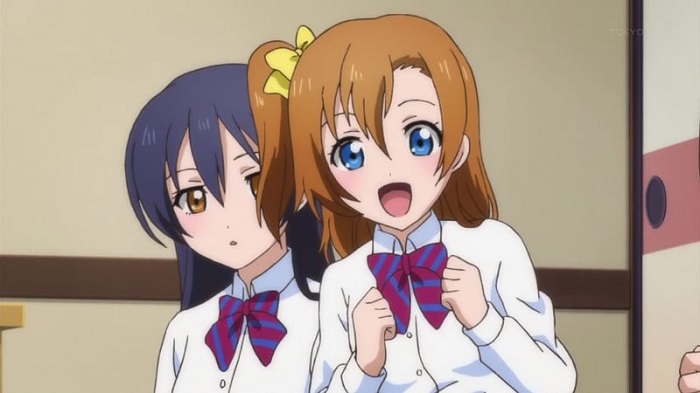 Honoka Kousaka wants to boost her school's popularity to save it from shutting down by forming an idol group. Her goal is to attract talented girls to join her group and perform at the competition called the Love Live. This music anime is great for the fans of idol groups and features some of the cutest girls you'll ever see in anime, music genre or otherwise.
---
For more of our most highly rated Music Anime, as well as an overview of all the genre has to offer, check out our Music genre page on MAL. **
If you're keen for more anime music related articles, make sure to check out Top 25 Best Anime Opening Songs of All Time and Top 25 Best Anime Ending Songs of All Time as well!**
All ranking information was taken on the date of publication.