Established:
Jun 14, 2011
MAPPA (MAPPA Co., Ltd.) is a Japanese animation studio founded by Masao Maruyama in June 2014, following his departure from Madhouse. It employs 250 people as of December 2021 between its Tokyo and Sendai studios. Maruyama's intent was for the film Kono Sekai no Katasumi ni (In This Corner of the World) to be the studio's first release, though the project would not be complete until 2016. By that time, the studio had already co-produced Sakamichi no Apollon (Kids on the Slope) and Hajime no Ippo: Rising, and released its first original anime—Zankyou no Terror (Terror in Resonance).

The name MAPPA is an acronym for Maruyama Animation Produce Project Association. Maruyama stepped down as president in 2016 to form Studio M2. He was replaced by former Studio 4°C employee Manabu Ootsuka.
Available At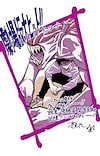 'Jujutsu Kaisen' Gets Second Anime Season in 2023
The stage greeting event for the Jujutsu Kaisen 0 anime film announced a second season on Saturday. The new season is scheduled to air in 2023. The anime film adapting Akutami Gege's prequel manga opened in theaters in Japan on December 24 last year, grossing over 10.46 billion y...