---
Boxing Anime
---
---
Hajime no Ippo is one of the more popular boxing anime, which also enjoyed significant success in Western regions. What makes this series so appealing is that all the boxers are fleshed out in detail, each one with a significant backstory and unique special moves. That may also explain why so many video games based on the Hajime no Ippo license, were released.
The main draw of Hajime no Ippo is the main character, Makunouchi Ippo, who undergoes drastic changes as the series progresses. Initially, he is a meek student who gets beaten up by the bullies at his school. But when he takes up boxing, he transforms into someone who is able to rough up the roughnecks!


---
---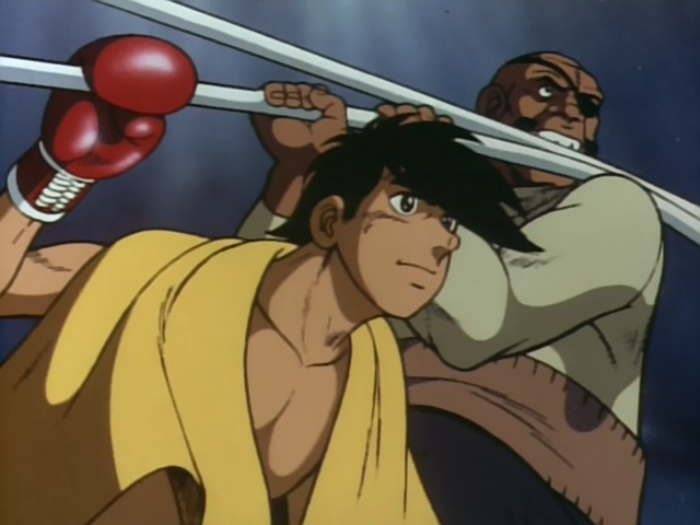 One can't discuss boxing anime without mentioning Ashita no Joe, which is a genre-defining series. It could be regarded as the anime equivalent of the Rocky films, and that's no understatement. And similarly to Rocky, the story in Ashita no Joe is a simple one, with the focus primarily on the young but troubled Joe Yabuki who finds his true calling as a boxer.
Joe has grown up as an orphan, and is thus prone to delinquent tendencies. Therefore, it's quite common for him to get into fights. Fortunately, his life takes a turn for the better after meeting Danpei Tange, an ex-boxer who becomes Joe's trainer and helps to unleash his true potential.


---
---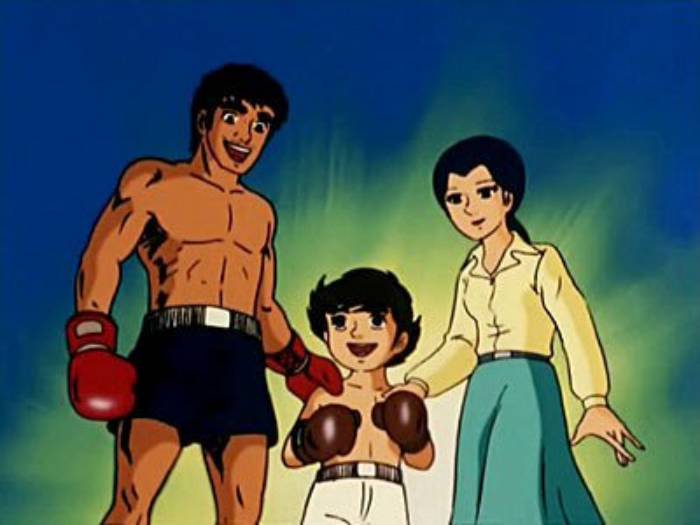 The young and feisty Horiguchi Genki is full of energy just as his surname suggests. And that's a good thing, as the poor lad had to deal with a ton of difficulties while growing up, which would have drained most folks. He lost his mom when he was born, and was brought up by his dad who was a struggling boxer. Horiguchi idolized his father and vowed to win the world title, which his old man wanted so dearly but failed to attain.


---
---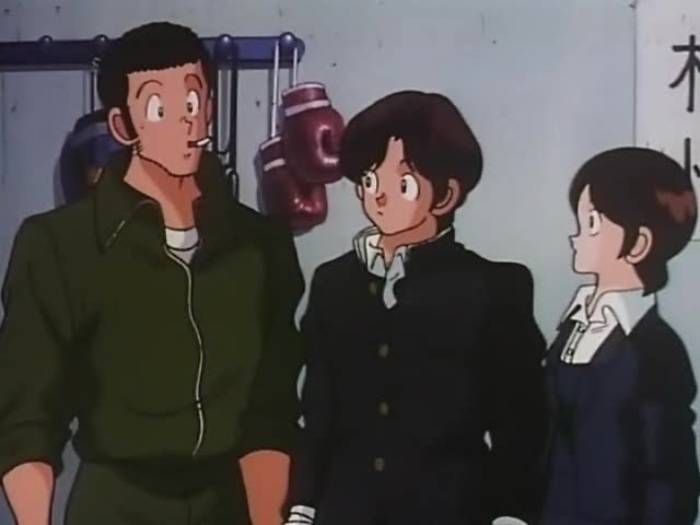 Slow Step was originally written by Misturu Adachi, who is the author of a ton of notable sports manga. This only makes this particular boxing anime, a more enticing experience. After all, an intense romantic triangle has formed between the three key characters. Does this mean that someone will get knocked out in the name of love, and not just in the boxing ring?


---
---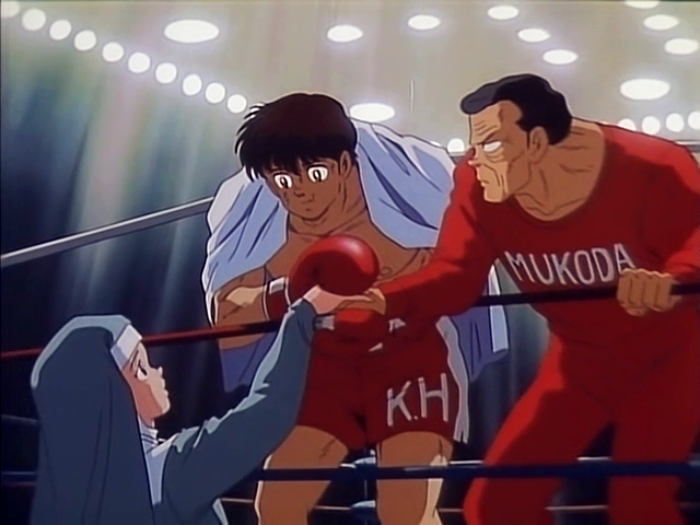 The story of the One Pound Gospel manga was written by Rumiko Takahashi, which means that this is no ordinary boxing anime adaptation. What we have here is a tale which encompasses uniquely diverse, yet incredibly likable characters. And yeah, there's bound to be some romance in there as well!
Now let's be honest, we don't often come across nuns in boxing films, and they're not exactly prevalent in anime. But Sister Angela plays a key role here, as she mentors Kosaku Hatanaka, helping him increase his willpower in order to overcome bad eating habits.


---
---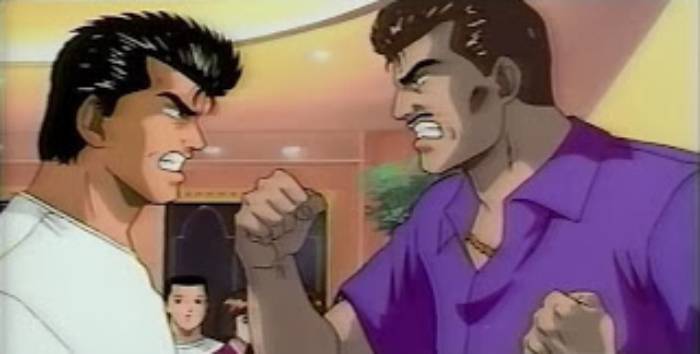 You've got to hand it to delinquents, as they're quite an enigmatic lot. On one hand, they're troublesome people, who enjoy cussing, fighting and breaking things. On the flip side, they seem to have a keen sense of justice and honor, and are often an archetypal representative of the underdog.
Rokudenashi Blues takes us on a trip to the wild side, while we witness the daily shenanigans of Taison Maeda. Will Taison be able to keep his short temper in check, or will he punch out another teacher in this early '90s cult boxing anime?


---
---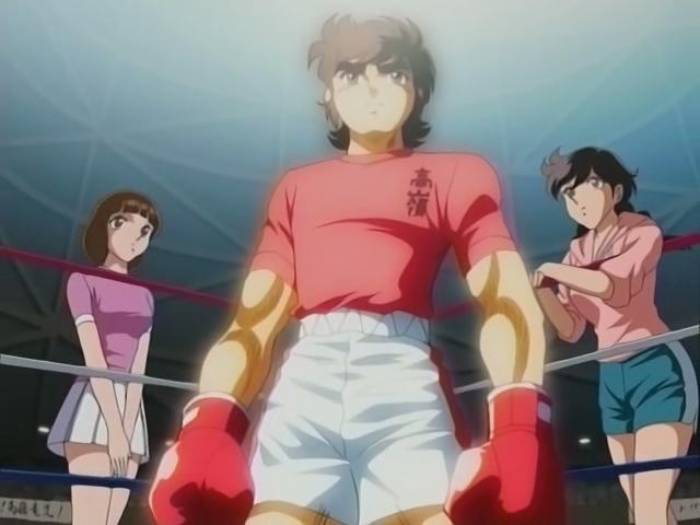 When the creator of Saint Seiya turned his attention towards the boxing genre, the end result was none other than Ring ni Kakero 1. And it shows, as the art style is classic Masami Kurumada, who has a knack for designing some of the most heroic and coolest looking characters in the business.
Aesthetics aside, Ring ni Kakero boasts a rock solid story which should please most boxing anime fans. It's truly a satisfying experience watching the siblings, Ryuuji and Kiku Takane work together in order to make history in the boxing ring.


---
---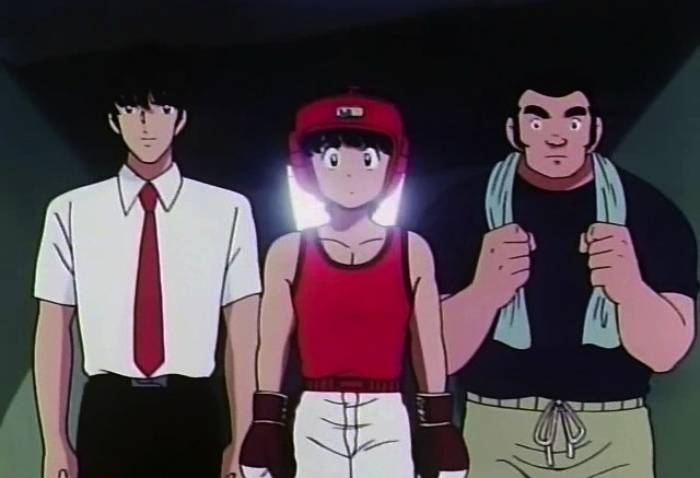 With a title like that, it's easy to confuse Nozomi Witches for a magical girls show instead of a boxing anime. And if that name seems atypical, then the scenario is just as unconventional. Ryoutaro Shiba is someone who doesn't have an interest in boxing, and doesn't even want to become a boxer, and only does so because his beautiful neighbour Nozomi Egawa encourages him to pursue the sport.


---
Boxing Manga
---
B.B.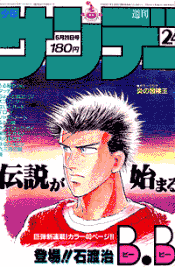 First Published: 1985
MAL Score: N/A


The title stands for 'Burning Blood', which is quite fitting considering the wild tale in this boxing manga. Ryo Takagi is a young musician who plays the trumpet at a local night club. But he is attacked by a motor cycle gang as he is leaving, and the fight spills onto the street which causes an accident. Furthermore, Ryo is arrested and jailed where he learns to box like a pro.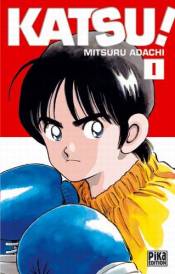 First Published: 2002
MAL Score: 7.96


Boxing is a male-dominated sport and women are often left out, which is one of the reasons why Mizutani Katsuki despises the sport. This may seem a bit peculiar, as her father owns a boxing gym. But life is strange, and she ends up training Sayotama Katsuki, a newbie boxer that has a crush on her.


---
Is your inner sports star pumped up with adrenaline and craving more athletic fun? If you enjoyed this article, you will surely find the following sports anime just as exciting!