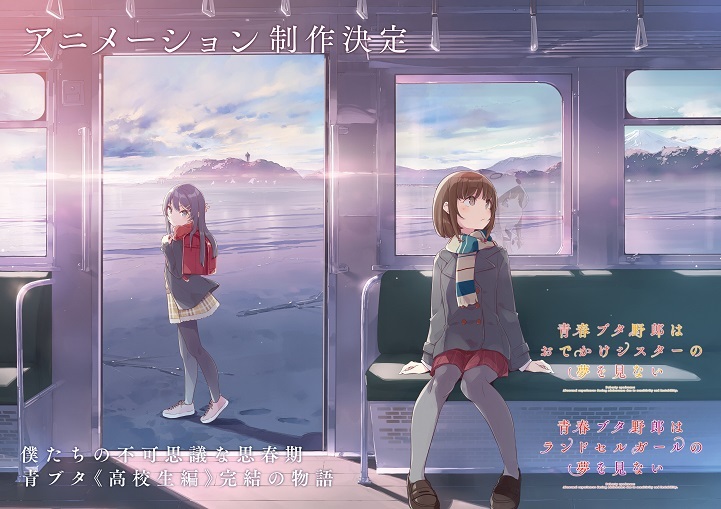 The Aniplex Online Fest 2022 event announced a sequel for the
anime series
adapting
Hajime Kamoshida
's
Seishun Buta Yarou Series
(
Rascal Does Not Dream
) light novel on Saturday. The event also revealed the main cast, staff, teaser visual (pictured), and an announcement promo.
The new anime project will cover the eighth and ninth novel volumes titled
Seishun Buta Yarou wa Odekake Sister no Yume wo Minai
(
Rascal Does Not Dream of a Sister Venturing Out
) and
Seishun Buta Yarou wa Randoseru Girl no Yume wo Minai
(
Rascal Does Not Dream of a Knapsack Kid
).
Returning staff at
CloverWorks
include director
Souichi Masui
(
Hitsugi no Chaika
),
Masahiro Yokotani
(
Hataraku Maou-sama!!
) for script and series composition, and character designer
Satomi Tamura
(
22/7
). The lead cast from the previous installments are reprising their roles.
The
television anime
aired in 13 episodes in Fall 2018. Aniplex of America licensed the anime and streamed it on Crunchyroll, Funimation, Hulu, and Netflix. The
Seishun Buta Yarou wa Yumemiru Shoujo no Yume wo Minai
(
Rascal Does Not Dream of a Dreaming Girl
) anime movie opened in Japan in June 2019, adapting the sixth and seventh novel volume.
Kamoshida launched the romantic comedy under the Dengeki Bunko imprint in April 2014, featuring illustrations by
Keiji Mizoguchi
(
Sakura-sou no Pet na Kanojo
). Kadokawa published the 11th volume in December 2020.
Synopsis (Eighth Volume)
WHAT WILL IT TAKE TO MAKE HER WISH COME TRUE?
After a draining December, Sakuta is quickly nearing the end of his second year of high school. Since Mai is a third-year student, they don't have much time left together before graduation rolls around. Meanwhile, his sister, Kaede, is slowly but steadily venturing outdoors again. Just as she begins to find her footing, she announces her most ambitious goal yet—attending her brother's high school! Sakuta knows better than anyone how difficult this will be for Kaede, and he's ready to support her however he can. He's just not sure if that's what's best for her...or what she really wants... (Source: Yen Press)
Synopsis (Ninth Volume)
Finally, the day of Mai's high school graduation has arrived. While Sakuta eagerly waits for his girlfriend, an elementary schooler who looks exactly like her appears before him. Suspicious, and for all the wrong reasons... Meanwhile, Sakuta and Kaede's father suddenly calls, saying that their mother wants to see her daughter. She was hospitalized because Kaede's condition had been too much for her to bear, so what could she possibly want now? (Source: Yen Press)
Announcement
Source:
Dengeki Online
Seishun Buta Yarou
(Shinsaku Anime) on MAL

RSS Feed