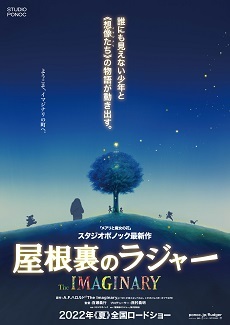 Film production and distribution company
Toho
announced an anime movie based on A.F. Harrold's
The Imaginary
novel Wednesday, revealing the main staff, a teaser trailer and teaser visual (pictured). The movie, titled
Yaneura no Rudger
(
Rudger in the Attic
), is scheduled to open in theaters in Japan in Summer 2022.
Staff
Director:
Yoshiyuki Momose
(
Ni no Kuni
,
Tomorrow's Leaves
)
Producer:
Yoshiaki Nishimura
(
Omoide no Marnie
,
Mary to Majo no Hana
)
Studio:
Studio Ponoc
Distribution: Toho
Synopsis
Rudger is Amanda Shuffleup's imaginary friend. Nobody else can see Rudger—until the evil Mr. Bunting arrives at Amanda's door. Mr. Bunting hunts imaginaries. Rumor has it that he even eats them. And now he's found Rudger.
Soon Rudger is alone, and running for his imaginary life. He needs to find Amanda before Mr. Bunting catches him—and before Amanda forgets him and he fades away to nothing. But how can an unreal boy stand alone in the real world? (Source: Bloomsbury Publishing, edited)
Bloomsbury Publishing released the children's fantasy novel with illustrations by Emily Gravett (
Wolves
,
Little Mouse's Big Book of Fears
) in October 2014. The novel was nominated for the Carnegie Medal and Kate Greenaway Medal in 2016.
Teaser Trailer
Note: The teaser trailer is also available here with English subtitles
.
Official site:
https://www.ponoc.jp/Rudger/
Official Twitter: @
StudioPonoc
Source:
PR Times
Yaneura no Rudger
on MAL

RSS Feed