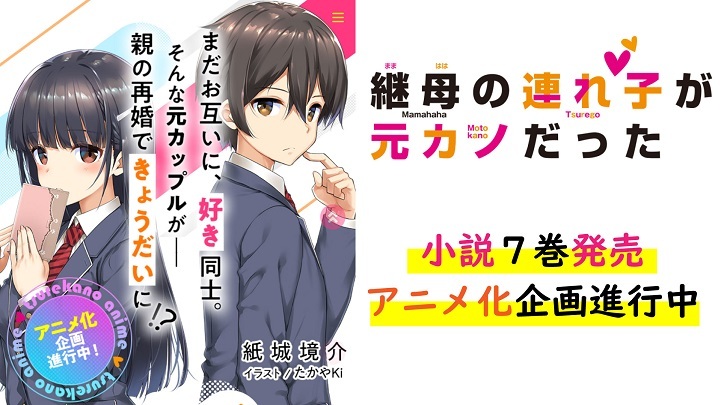 An anime adaptation of
Kyousuke Kamishiro
's
Mamahaha no Tsurego ga Motokano datta
(
My Stepsister is My Ex-Girlfriend
) light novel was announced by publishing company Kadokawa on Wednesday.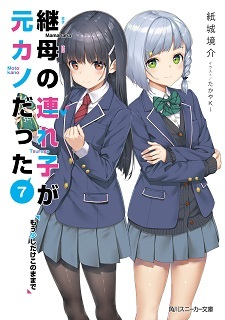 Synopsis
A certain boy and girl in middle school became lovers, flirted with each other, disagreed on trivial things, became more frequently irritated with each other rather than excited... and ended up breaking up at graduation. And so the two of them, Mizuto Irido and Yume Ayai, wound up meeting each other in the most unexpected fashion.
"Isn't it obvious that I'm the elder brother?"
"Isn't it obvious that I'm the elder sister?"
The children of the partner of their parents' remarriage were ex-lovers?!
The former couple, mindful of their parent's feelings, decided on a "sibling rule" where the one who becomes conscious of the other as the opposite sex loses, but... When they encounter each other in the bathroom, commute to and from school together... along with the memories of the past and living under the same roof, just how do they disregard each other?! (Source: Kadokawa, translated)
Kamishiro
began posting
the romantic comedy novel, also known by its short title
TsureKano
, on the Kakuyomu website in August 2017. Kadokawa began printing the series through its Sneaker Bunko imprint the following December, featuring illustrations by
TakayaKi
(
Arifureta Shokugyou de Sekai Saikyou
). The sixth volume shipped on January 29, with the seventh volume scheduled for release on July 30 (pictured right).
TsureKano
has a cumulative 450,000 copies of its volumes in print.
Rei Kusakabe
began drawing
a
manga adaptation
under
Niconico Seiga
's
Dra-Dra Sharp#
web manga portal in May 2019. Kadokawa shipped the third volume on May 8.
ComicWalker
also
posts
the manga simultaneously.
TsureKano
won the
3rd Kakuyomu Web Novel Contest
under the Romantic Comedy category in 2018 and placed 7th and 5th in the
2020
and
2021
editions of Kono Light Novel ga Sugoi! rankings, respectively.
Novel special site:
https://sneakerbunko.jp/tsurekano/
Novel official Twitter: @
tsurekano
Source:
PR Times
Mamahaha no Tsurego ga Motokano datta
on MAL

RSS Feed