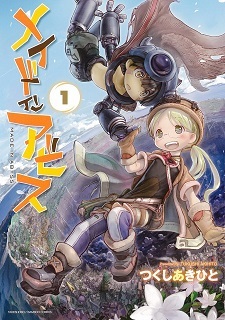 Entertainment news outlet Deadline reported on Friday that
Akihito Tsukushi
's
Made in Abyss
manga is in the early stages of being adapted into a Hollywood live-action film by Columbia Pictures.
Sony
, Vertigo Entertainment, and actor Masi Oka (
Death Note
Netflix live-action) are on board as producers.
Kevin McMullen (
Low Tide
,
First Harvest
) will be directing and penning the screenplay of the adaptation. Vertigo Entertainment and Oka worked together in the past to produce the Netflix live-action film adaptation of
Death Note
and are
currently working
on a
Yakusoku no Neverland
(
The Promised Neverland
) Western live-action film. Masi Oka is also working on a
Shingeki no Kyojin
(
Attack on Titan
) and
Akira
live-action film.
Synopsis
The Abyss, a hole of unprecedented depth—one young girl and a robot brave its dangers to find the truth.
The town of Orth is a special one, as it is built around the edges of the massive Abyss, a wonder which has never been fully explored. Those who venture too far down never return, but those brave enough to traverse its territories are known as "Cave Raiders" and are heralded as legends. Within this town lives a young girl called Riko, the child of one of the most famous Cave Raiders of all time who disappeared on an expedition many years ago.
One day, Riko's life changes when she meets a strange robot called Regu, who seems to appear from within the Abyss. Believing this to be a sign from her mother stuck at the bottom of the Abyss, Riko descends into its depths with Regu, ready to confront all the dangers within it. [Written by MAL Rewrite]
Tsukushi began serializing the adventure fantasy manga on the
Web Comic Gamma
website in October 2012. Takeshobo will ship the tenth volume on July 29.
Made in Abyss
has a cumulative 3.33 million copies of its volumes in circulation.
Kinema Citrus
adapted the manga into a
13-episode television anime
in Summer 2017. The
Fukaki Tamashii no Reimei
(
Dawn of the Deep Soul
) sequel anime film premiered last January. A
second anime season
is currently in production for a 2022 airing.
Sentai Filmworks licensed the anime series in North America and released the first season on home video in October 2018. Seven Seas Entertainment licensed the manga in English in July 2017 and
shipped
the ninth volume on March 30.
Source:
Deadline
News submitted by
2KIRA

RSS Feed