The Di Gi Charat Totsuzen no Dai News Tokuban livestream event announced a mini anime series for the franchise on Saturday. The anime will be the first part of the Reiwa no Di Gi Charat project, which celebrates the franchise's 24th anniversary next year. Bushiroad also opened an official website, revealing the main staff and a key visual (pictured above).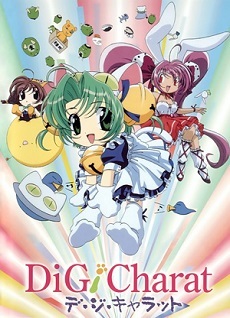 Staff
Director:
Hiroaki Sakurai
(
Di Gi Charat
,
Machikado Mazoku
)
Character Design:
Atsuko Watanabe
(
Hanayamata
,
GA: Geijutsuka Art Design Class
)
Studio:
LIDENFILMS
Cast
Di Gi Charat:
Asami Sanada
(
Mahou Shoujo Lyrical Nanoha A's
)
Petit Charat:
Miyuki Sawashiro
(
Rozen Maiden
)
Rabi-en-Rose:
Kyouko Hikami
(
Eden
)
Gema:
Yoshiko Kamei
(
Love Lab
)
Pyocola Analogue III:
Megumi Hayashibara
(
Slayers
)
Rik Heisenberg:
Kousuke Toriumi
(
Bleach
)
Ky Schweitzer:
Chihiro Suzuki
(
Kareshi Kanojo no Jijou
)
Coo Erhard:
Tomo Saeki
(
Abenobashi Mahou☆Shoutengai
)
The voice cast are reprising their roles from the original anime, with
Satomi Akesaka
(
Tantei Opera Milky Holmes
) joining the cast as Broccodes.
Game production and planning company Broccoli launched the mascot franchise for its retail chain Gamers in 1998. The franchise has since inspired anime series, manga adaptations, video games, and trading cards.
Madhouse
produced the
first television anime
that aired in 16 episodes in Fall 1999 (pictured right). A
48-episode prequel
premiered in Winter 2002.
Winter Garden
(
Di Gi Charat: Winter Garden
), the latest anime installment in the franchise, aired in two episodes in December 2006.
Synch-Point released the original television anime in North America in 2005. Sentai Filmworks relicensed the anime series in 2013 and released it on DVD in October that year. The distributor also shipped the OVAs and special episodes on home video.
Official site:
https://digicharat-reiwa.com/anime/
Official Twitter: @
digicharat_r
Source:
PR Times
Reiwa no Di Gi Charat
on MAL

RSS Feed