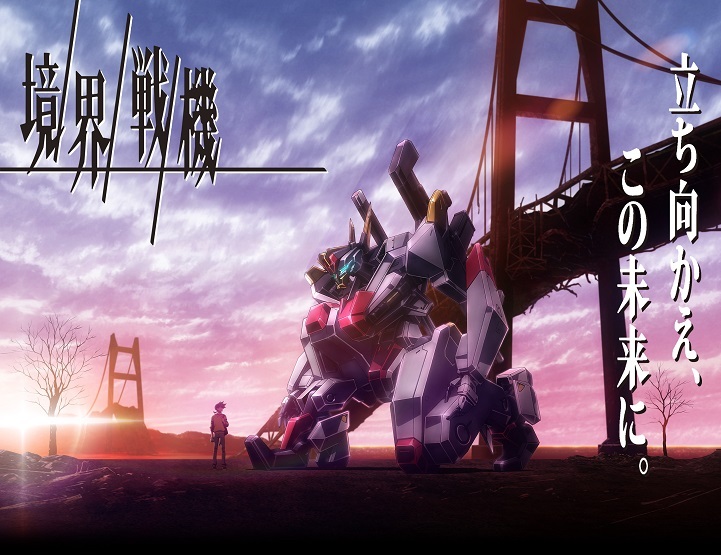 Hobby and toy business
Bandai Spirits
and animation studio
Sunrise Beyond
announced an original mecha anime titled
Kyoukai Senki
(
Boundary War Machine
) on Tuesday, scheduled for a Fall 2021 debut. The companies also opened an official website, revealing the main staff, a teaser visual (pictured above), and promotional video.
Synopsis
In the year 2061 AD, Japan has lost its sovereignty. The Japanese people spend their days as oppressed citizens after being divided and ruled by the four major trade factions. The country became the forefront of the world following the deployment of AMAIM—a humanoid special mobile weapon—by each economic bloc.
One day, Amou Shiiba, a boy who loves machines, meets Gai, an autonomous thinking A.I. The encounter leads Amou to cast himself into the battle to reclaim Japan, piloting the AMAIM Kenbu that he built himself.
Staff
Director:
Nobuyoshi Habara
(
Soukyuu no Fafner: Dead Aggressor
,
Break Blade
)
Series Composition:
Noboru Kimura
(
Gundam Build Divers
,
Mobile Suit Gundam AGE: Memory of Eden
)
Character Design:
Kenichi Oonuki
(
Gundam Build Fighters
,
Golden Kamuy
)
Music:
Rasmus Faber
(
Gakusen Toshi Asterisk
,
Harukana Receive
)
Mechanical Design:
Kanetake Ebikawa
(
Eureka Seven AO
),
Kenji Teraoka
(
Code Geass: Hangyaku no Lelouch
),
Ippei Gyoubu
(
Mobile Suit Gundam: Iron-Blooded Orphans
)
Japanese industrial designer Ken Okuyama is supervising the mechanical designs. Yuuya Koyanagi (
Mobile Suit Gundam G40
design works) is also designing the mecha at the Ken Okuyama Design company.
PV
Official site:
https://www.kyoukai-senki.net/
Official Twitter: @
kyoukai_senki
Source:
animate Times
,
Press Release
Kyoukai Senki
on MAL

RSS Feed