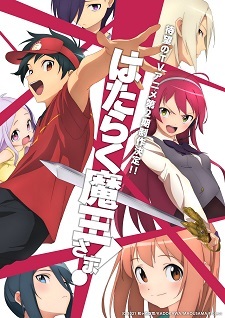 The Light Novel Expo event announced a second anime season for
Satoshi Wagahara
's
Hataraku Maou-sama!
(
The Devil Is a Part-Timer!
) light novel on Saturday. The voice cast from the first season will reprise their roles.
Synopsis
In the world of Ente Isla, the Demon Lord Satan has attempted to conquer humanity using an enormous army of demons. But when he almost succeeds, mankind's champion, Hero Emilia, thwarts his plans, forcing him to retreat into a portal that leads to a world unbeknownst to him—Earth.
Along with his faithful servant Alsiel, Satan stumbles upon the modern-day city of Tokyo without any knowledge of the world itself. Completely out of their depth, they gain some information from a police officer, but Satan still has one more problem—money. In order to survive with his greatly diminished powers, he guises himself as a human named Sadao Maou, lives in an apartment, and becomes a part-timer at the fast food restaurant MgRonald's. Determined not only to conquer Ente Isla but also Earth, Sadao strives to become a full-time employee in his job, as he believes that it would be a step forward in his conquests.
Things begin looking up for the once all-powerful demon as he ventures through his everyday life—his job, his home, and his relationships. However, a major setback pops up when Emilia, the hero who drove him out of Ente Isla, suddenly appears... [Written by MAL Rewrite]
Wagahara
originally submitted
the comedy fantasy novel under the title
Maoujou wa Rokujou Hitoma!
(
The Devil's Castle within a Six-tatami Room!
) at the
17th Dengeki Taisho awards
in November 2010 and won the Silver Prize along with
Antiliteral no Arcanist
. Dengeki Bunko began publishing the novel featuring illustrations by
029
(
Inou-Battle wa Nichijou-kei no Naka de
) the following February and shipped the 21st and final volume on August 7 last year.
Hataraku Maou-sama!
has a cumulative 3 million copies of its volumes in circulation.
Akio Hiragi
began drawing a
manga adaptation
in
Dengeki Daioh
in December 2011, which has 16 volumes in print as of on March 10.
Kurone Mishima
(
Kono Subarashii Sekai ni Shukufuku wo!
) serialized the
Hataraku Maou-sama! High School!
spin-off in
Dengeki Maoh
from May 2012 to February 2015.
White Fox
produced the 13-episode
first television anime
in Spring 2013, covering the first two volumes. Funimation simulcast the show with subtitles and released it on Blu-ray in July 2014.
Yen Press licensed both the light novel and manga adaptation in English in August 2014 and
released
the 16th manga volume and 18th light novel volume on December 15 last year. The company also published the high school spin-off manga between August 2015 and October 2016.
Wagahara and 029 published a spin-off volume titled
Hataraku Maou-sama no Meshi!
in February 2019.
Uoji Sada
launched
a
manga adaptation
based on the volume on Kadokawa's
ComicWalker
website in August that year. The third volume will go on sale on March 27.
Announcement
Official site:
https://maousama.jp/
Official Twitter: @
anime_maousama
Novel special site:
https://dengekibunko.jp/title/maou/
Source:
Dengeki Online
Hataraku Maou-sama! 2nd Season
on MAL

RSS Feed