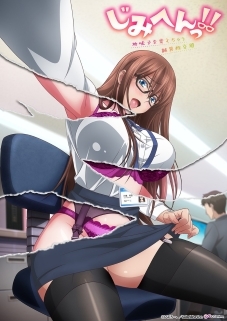 ComicFesta launched an official website on Tuesday for an anime adaptation of
Iburo.
's adult web manga
Jimihen!!: Jimiko wo Kaechau Jun Isei Kouyuu!!
(
Jimihen!!: Pure Heterosexual Exchange That Changes a Reserved Girl
), revealing the cast, staff, and a key visual (pictured).
The complete version will stream on the ComicFesta Anime Zone website on January 4 at 12:00 a.m., with the on air version premiering on Tokyo MX the same day at 1:00 a.m.
Synopsis
The story follows Rena Yukuhasahi, a reserved office lady and Ryouhei Hachiya, a businessman and fellow colleague. Yukuhasahi appears to be the most reserved girl in the company, but becomes a super beautiful woman when she dresses up. Flustered in the presence of her transformed self, Hachiya insists on taking her out, only to find themselves in front of a love hotel.
Cast
Rena Yukuhashi:
Kazane
(
Little Busters!: EX
)
Ryouhei Hachiya:
Masato Kawamura
(
Papa datte, Shitai
)
Rie Sekiguchi: Usa Fujisaki (
D.C. III: Da Capo III
visual novel)
Department Head: Hibiki Nanashino (
Lkyt.
visual novel)
Staff
Director:
Rei Ishigura
(
Overflow
)
Screenplay: Rei Ishigura,
Eiyo Kurosaki
(
Kyojinzoku no Hanayome
)
Character Design:
Kazuya Kuroda
(
Aki Sora: Yume no Naka
)
Chief Animation Director: Kazuya Kuroda,
Kakuto Gai
(
Yubisaki kara no Honki no Netsujou: Osananajimi wa Shouboushi
)
Art Director: Hanako Yamada
Color Design:
Washimi
(
Kyojinzoku no Hanayome
)
Director of Photography:
Takashi Yanagida
(
Nozo x Kimi
)
Editing:
Kouki Shinkai
(
Otona nya Koi no Shikata ga Wakaranee!
)
Sound Director:
Takahiro Enomoto
(
Araiya-san!: Ore to Aitsu ga Onnayu de!?
)
Sound Production:
Studio Mausu
Production:
Suiseisha
Studio:
Studio Hokiboshi
Iburo originally serialized the manga online under the title
Jimiko wa Igai ni Ero Katta
(
The Reserved Girl was Unxpectedly Erotic
) in October 2019. Suiesha published the first volume on September 25, with the second volume set to release on January 18, 2021.
Official site:
https://jimihen.cf-anime.com/
Source:
Anime! Anime!
Jimihen!!: Jimiko wo Kaechau Jun Isei Kouyuu
on MAL

RSS Feed