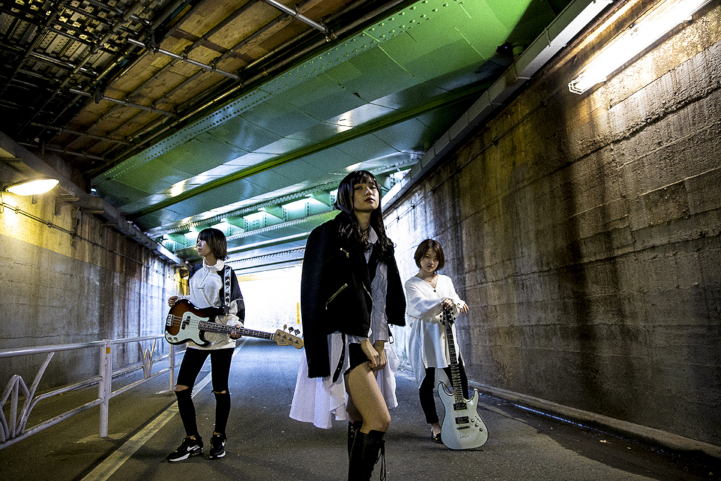 BRATS
is a Japanese band formed by sisters Rei Kuromiya and Aya Kuromiya. They debuted in August 2011 with Rei as the vocalist and Aya playing bass. The sisters were later joined by Aya's friend Hinako, who became the group's official guitarist in 2015.
Contrary to the name, the trio aren't brats—vocalist Rei was actually inspired by the fictional band Black Stones (BLAST) from the manga
Nana
. They wanted a name that sounded just right, and it fits their music, too. BRATS express themselves through hard rock, with heavy verses leading into catchy choruses.

Video: "Ainikoiyo" (opening theme from To Be Hero)
In 2016, BRATS released "Ainikoiyo," used as the opening theme for the TV anime
To Be Hero
, and their follow-up single "
Nounai Shoukyo Game
" was chosen for the action comedy feature film
Slavemen
. Their self-titled debut album was released July 25, 2018.
BRATS made their overseas concert debut in January 2019, participating in "AMBITIOUS GIRLS SERIES 1" at West Bridge Hall in Seoul, South Korea, and debuted in North America at this year's Animé Los Angeles on January 10. Following that performance, MyAnimeList had the opportunity to speak with them about their growth as a band and plans for the future.

Video: Animé Los Angeles Introduction
What was it like performing your newest song, "Excuser," live? What sort of emotions come with performing a new song in front of fans for the first time?
Rei
: We first performed "Excuser" for a live audience last October, and we recorded it in November.
Hinako
: That gave us a lot of confidence, doing it that way. By the time we got to the recording studio, we knew the audience would like it.
Aya
: Here at Animé Los Angeles, we got to play it for a US audience for the first time. I'm sure people didn't know our songs, especially the new song "Excuser," but I was really impressed to see how hyped up they got. I think they got into it even more than the Japanese audience.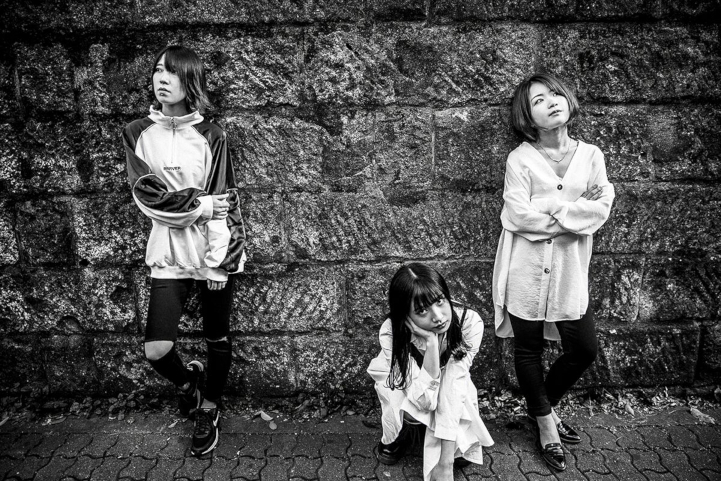 What were some of your earliest musical influences? Was there a single song that completely inspired you to make and perform music?
Rei
: We get this question a lot, and we answer "no one." Maybe people think that's just us being difficult or making that up, but it's really how we feel. Even if we aspired to be like someone else, we know we could never be like them. I never had that kind of feeling in my life—I never tried anything or started anything because I was inspired to be like someone else. It wasn't like, "Oh I love this music, so let's start a copy band." That never happened to me. But, if someone hears our music and that inspires them, that's okay. That would make me happy, too.
Almost one year ago today, you made your overseas debut in Seoul, and Friday night you performed in the U.S. for the first time. What has been the best part of performing overseas so far?
Rei
: I feel like we've become stronger as a band. I don't know exactly how, but I know we've "leveled up." After these overseas performances, we know we're not just stuck in Japan. I think it's a mental thing, to learn that even if you're not a "famous" band, your music can still connect to people overseas, and you can actually perform live for those people and make that connection even stronger. When we have these experiences, we go back to give that energy to our shows in Japan. We'll be ready for the next chance to perform wherever it is.
Browsing comment sections online, I've seen love for BRATS from countries all around the world. What's one city or country you'd each love to perform in?
Hinako
: At first, I was so surprised to see that people from other countries were reading our posts on social media. When I see those comments, it makes me feel like I want to go everywhere. The idea of going to South America one day gets me excited.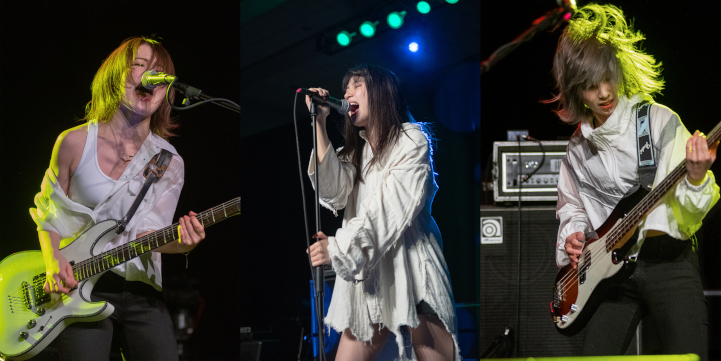 Are you still anime fans? Which series are you most excited about?
Aya
: I still watch anime once in a while—my favorites are series like
Neon Genesis Evangelion
,
Fairy Tail
,
Kimetsu no Yaiba
(
Demon Slayer
), and
No Game No Life
.
Rei
:
Hunter x Hunter
,
Demon Slayer
,
Enen no Shouboutai
(
Fire Force
).
Hinako
: I'm a fan of
AnoHana
. I usually like
Jump
anime.
Our website is dedicated to anime and manga, so many of our users were introduced to BRATS through your song "Ainikoiyo," which was used as the opening theme for To Be Hero. Do you hope to make more music for anime in the future?
Rei
: We want the chance to reach people with our music in any way we can. Anime is a great way to connect to people all over the world, so of course, we would never turn down that chance.
Beyond the sound of your music, which was as heavy as ever with "Excuser," you also present a cool, edgy image with your logo, your clothing, and even your piercings. What's one trait or interest of yours that doesn't fit your band's image and would surprise your fans?
Aya
: We don't smoke at all or do any of the things that "bad boy"/"bad girl" types would do. I don't think we fit into any of the punk rock stereotypes.
Rei
: Even if we were "bad girls" who drank or smoked, I don't think anyone would really care, would they?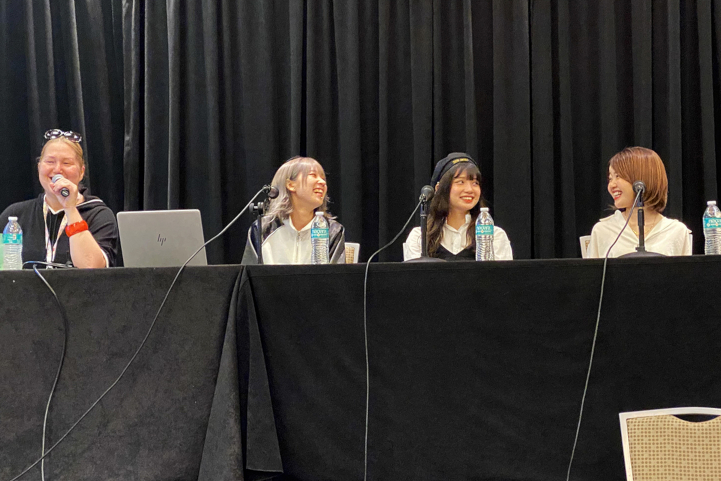 You have the unique experience of playing together as a band from a young age into your adulthood. What can we expect next from BRATS as you've grown as musicians and individuals?
Rei
: If we're still doing this when we're over 30, I think we'll just look old! We might get tired easily, we might be singing "kids songs" if we get married and become moms. Because I'm 19 right now, I can't see too far into the future. I just know what I'm passionate about right now. We're already close to our 10th anniversary... but we're not ready to celebrate just yet!
Is there anything you'd like to say to your fans?
Hinako
: At Animé Los Angeles, we met a lot of fans face to face for the first time, but our time together was really short. Even though people might have not known too much about us, they still showed us their support, and we're really grateful for that. We want people to listen to more of our songs, learn more about BRATS, and come see our shows in Japan if they can. And we'll try really hard to come back overseas again soon. Seeing everyone together makes us happy.
BRATS latest single, "
No more No more
," is on sale now.
BRATS Official Website:
http://brats-official.com
Instagram:
https://www.instagram.com/brats__official
Twitter:
https://twitter.com/brats_official
Facebook:
https://www.facebook.com/BratsJP
Stream/Download:
https://avex.lnk.to/BRATS_PLAYLISTID
Official Fan Club:
https://fanicon.net/fancommunities/1696
Apple Music:
http://bit.ly/BRATS_iTunes
Spotify:
http://bit.ly/BRATS_Spotify

RSS Feed