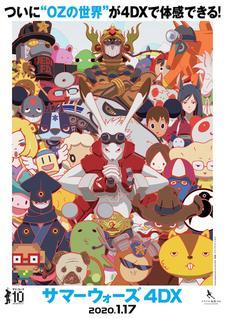 Mamoru Hosoda
's anime film
Summer Wars
is getting 4DX re-release in Japanese theaters on January 17, 2020 to commemorate the film's 10th anniversary. A new key visual (pictured) and promotional video for the 4DX edition were also revealed.
Synopsis
OZ, a virtual world connected to the internet, has become extremely popular worldwide as a spot for people to engage in a large variety of activities, such as playing sports or shopping, through avatars created and customized by the user. OZ also possesses a near impenetrable security due to its strong encryption, ensuring that any personal data transmitted through the networks will be kept safe in order to protect those who use it. Because of its convenient applications, the majority of society has become highly dependent on the simulated reality, even going as far as entrusting the system with bringing back the unmanned asteroid explorer, Arawashi.
Kenji Koiso is a 17-year-old math genius and part-time OZ moderator who is invited by his crush Natsuki Shinohara on a summer trip. But unbeknownst to him, this adventure requires him to act as her fiancé. Shortly after arriving at Natsuki's family's estate, which is preparing for her great-grandmother's 90th birthday, he receives a strange, coded message on his cell phone from an unknown sender who challenges him to solve it. Kenji is able to crack the code, but little does he know that his math expertise has just put Earth in great danger. [Written by MAL Rewrite]
The sci-fi comedy by
Madhouse
was director Mamoru Hosoda's first original feature animation film.
Summer Wars
premiered in Japanese theaters in August 2009 and earned over US$18 million in worldwide box offices. The film won several awards, including the Japanese Academy Award for Animation of the Year in 2010, the Anaheim International Film Film Festival's Audience Award for Best Animated Feature, and the Animation Division Grand Prize at the 13th Japan Media Arts Festival. Hosoda also became the second Japanese director (after
Hayao Miyazaki
) to be
nominated
for an Annie Award for his work on the film.
Funimation
licensed
Summer Wars
on Blu-ray and DVD in North America in 2011, which includes previews and interviews with the staff and cast. Kaze licensed the film in Europe on Blu-ray and DVD in 2010, and Manga Entertainment licensed it for home release in the UK in 2011.
PV
Source:
Comic Natalie
News submitted by
vanillaguard

RSS Feed