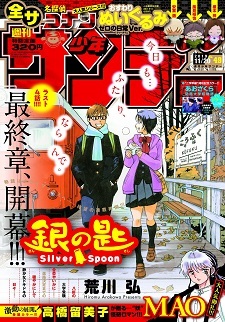 The 49th issue of
Weekly Shounen Sunday
magazine revealed on Wednesday that
Hiromu Arakawa
's manga series
Gin no Saji
(
Silver Spoon
) will reach its conclusion in four chapters.
Synopsis
Yuugo Hachiken has spent every waking moment of his life studying in order to achieve the highest grades in school. Finally cracking under the pressure of his parents' expectations for success, Yuugo decides to leave his city life and enroll in the rural Ooezo Agricultural High School. However, he has absolutely no experience with farming!
Attempting to utilize the skills he has built through studying, Yuugo begins to pursue the true meaning of having a dream and perhaps discover his own along the way. But life is not as simple as it seems to be, and Yuugo must learn that hardship may appear when you least expect it. [Written by MAL Rewrite]
The agricultural manga series, which is both written and drawn by Hiromu Arakawa, launched in Weekly Shounen Sunday magazine in May 2011. It recently resumed from a hiatus that was announced in June of last year, but it has since its debut also been on hiatus on multiple occasions. The series has received various awards, including the
Manga Taishou Award
in 2012, the Shougakukan Manga Award in the Shounen Category in 2013, and as the runner-up in the manga category of Sugoi Japan Award in 2015. There are currently 14 compiled volumes in print, with the latest one released on August 18, 2017.
The series was adapted by
A-1 Pictures
into two 11-episode television series that aired in
Summer 2013
and
Winter 2014
, respectively. It also
received
a live-action adaptation slated for Spring 2014.
Yen Press
announced
at Anime Expo 2017 that the manga series had been licensed for North American release. They have since then released 11 volumes, with the 12th volume scheduled for December 17 of this year. Aniplex USA announced in 2013 that they had licensed both anime series for release in North America.
Source:
Oricon

RSS Feed