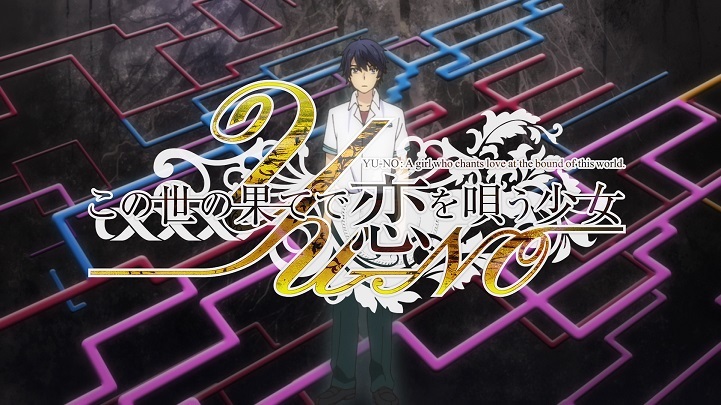 Video game developer and publishing company
MAGES.
launched an official website for the
anime adaptation
of Hiroyuki Kanno's
Kono Yo no Hate de Koi wo Utau Shoujo YU-NO
(
YU-NO: A girl who chants love at the bound of this world
) visual novel on Thursday, revealing cast, additional staff, and the first promotional video. Directed by
Tetsuo Hirakawa
(
Zero kara Hajimeru Mahou no Sho
) and featuring character designs by
Mai Ootsuka
(
Kono Bijutsubu ni wa Mondai ga Aru!
) at studio
feel.
, the 26-episode anime series will premiere in April 2019.
The cast members announced are reprising their characters from the 2017 remake of the visual novel.
Cast
Takuya Arima:
Yuu Hayashi
(
Haikyuu!!
)
Mio Shimazu:
Rie Kugimiya
(
Robotics;Notes
)
Kanna Hatano:
Maaya Uchida
(
Musaigen no Phantom World
)
Yuno:
Ari Ozawa
(
Gekkan Shoujo Nozaki-kun
)
Staff
Background Art:
Totonyan
Sound Director:
Kazuya Tanaka
(
Ima, Soko ni Iru Boku
)
Music:
Keishi Yonao
(
Dies Irae
), Ryuu Takami (original composer)
Opening/Ending Theme Lyrics, Composition:
Chiyomaru Shikura
(
Steins;Gate
)
PV 1
The original 1996 sci-fi visual novel developed by now-defunct Elf Corporation was adapted as a four-episode
adult anime
in 1998-1999. The game was subsequently released for Sega Saturn and Windows platforms in 1997 and 2000, respectively. 5pb. Games announced a remake in December 2014 and released the game for PlayStation 4 and PlayStation Vita earlier this March after several delays. The remake is also planned to be released for Nintendo Switch in 2019.
Official site:
http://yuno-anime.com/
Source:
PR Times

RSS Feed